If you're considering an electric car (or even a plug-in hybrid), it's a good idea to become familiar with the different types of chargers, connectors and cables. Read our handy guide which explains the charging basics and some useful terminology.
---
Charging an electric vehicle (EV) is no more complicated than filling up a car with petrol or diesel. You follow a similar process to refuelling, but instead of inserting a nozzle into the fuel tank, you'll attach a connector that charges your electric car's battery. Where you'll charge and how fast that charge will be are dependent on the type of charger your EV is designed to use.
It's important to know some of the language used when talking about electric car charging – otherwise it can all feel a bit unfamiliar. This guide covers the basics of EV charging, including what is involved and key terminology.
What is a connector and how does it work?
An EV connector is a cable that connects your car to an electric charging point. With a 'plug head' on either end, one end of the connector pushes into a charging port on your electric car, and the other end plugs into a port on the charging station. Often, the charging port on the electric car will be in the same place that a fuel cap would be on a petrol/diesel car.
Not all connectors are the same, however. Some are designed for slow charging, some for fast and some for rapid or ultra-rapid. As a result, your car may not be able to use all types of charging station.
So what type of charging station will I use?
This will be defined by the model of electric car you choose, but it will be one of these four types:
Slow charger: 3-5kW
Fast charger: 7-22kW
Rapid charger: 25-99kW
Ultra-rapid charger: 100kW+
Most EVs will have the option to fast or slow charge, and lots will have the option of rapid-charging as well. Currently, ultra-rapid charging is less common – but this is unlikely to affect you if you are using your EV for shorter daily trips and are charging it at home.
The vast majority of EVs use fast chargers, which is reflected in the higher number of fast charging stations across the UK. Fast charging is also the most common option for home charging and it takes between three and eight hours to recharge your car fully. Fast charging points are often located at car parks, retail parks and supermarkets – where it's possible to charge while you go off and do other things.
Read our step-by-step guide to EV street charging
Good to know
If you are a Motability Scheme customer leasing your first electric vehicle, you can get a home charge point installed at no extra cost.
Slow chargers are currently the second-most common option, and are capable of charging a battery within six to 12 hours. Most slow charging points are found at homes or offices, where the electric car can be left to charge for an extended period.
Rapid and ultra-rapid chargers are currently the least common options. A rapid charger will typically charge a battery to 80% in around 40-60 minutes. Ultra-rapid can reach 80% charge in around 20 minutes. You'll usually find these charging points at motorway services and locations close to major roads.
How does my car connect to an electric charger?
Your EV should come with the connector you need and will be one of four types, determined by the speed options mentioned above.
Slow charging has the option to use Type 1, Type 2 and – as a last and very slow resort – a three-pin plug that connects to a house socket. Type 2 is by far the most common and the speed is limited at up to 6kW AC (alternating current).
Fast charging can also use Type 1 or Type 2 connectors, although Type 2 is again by far the most common option. Type 2 connectors are capable of charging up to 22kW AC, compared with Type 1's limit of up to 7kW AC.
Rapid and ultra-rapid charging most commonly use Combined Charging Standard (CSS) connectors, which charge at up to 350kW DC (direct current, which is much faster than AC). But they also have the option to use CHAdeMO (up to 50kW DC) and Type 2 (up to 43kW AC) connectors. If your electric vehicle can take a rapid charge, you may also want to use an ultra-rapid charging point, as the power is limited to whatever the vehicle can accept.
Each connector features a unique head design, with a specific pin pattern corresponding with the plug-in port on the charging point. You can clearly see this in the below image: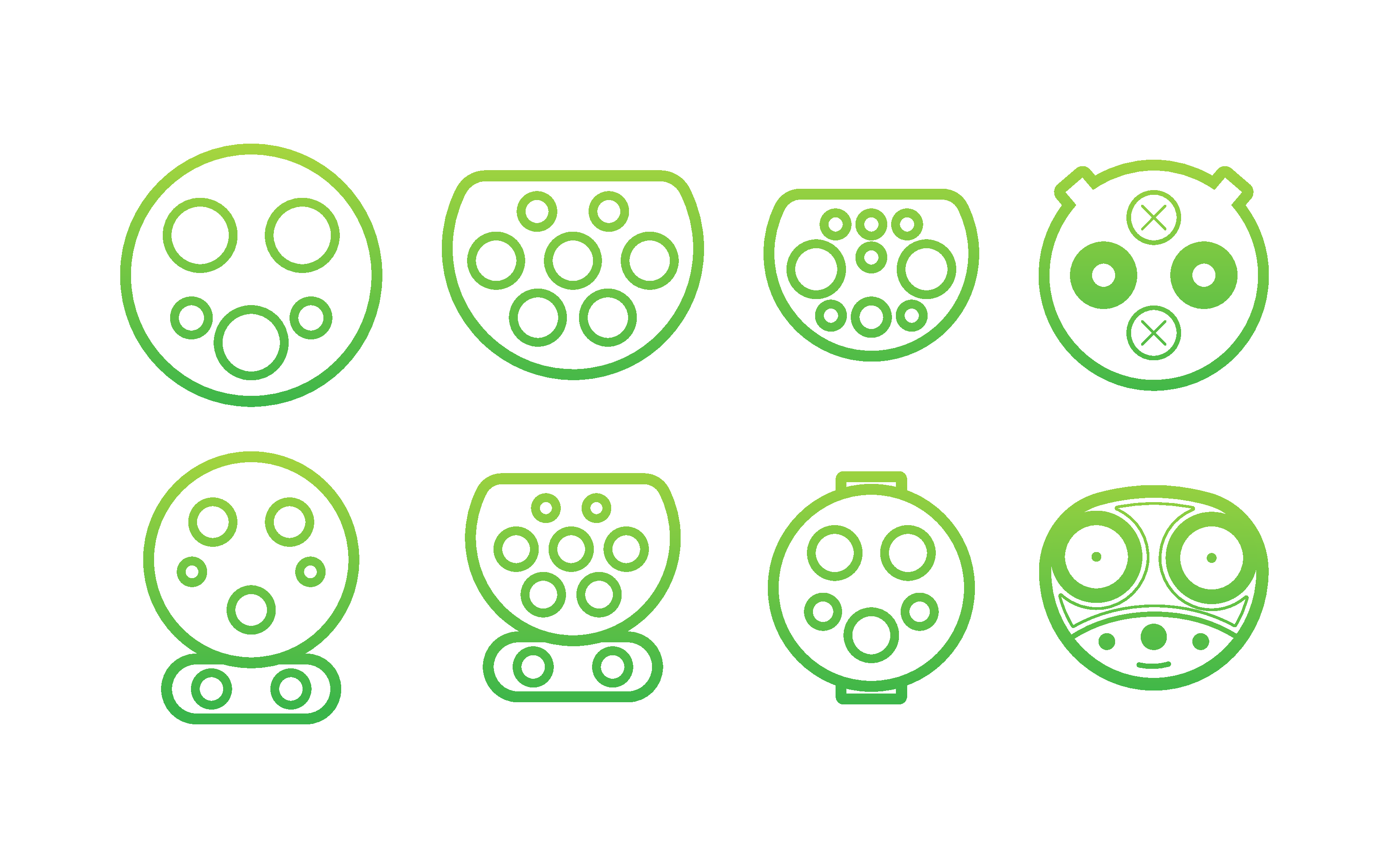 EV Connector Types
So, for example, a seven-pin Type 2 connector could not push into a nine-pin CCS charging point. Although this may seem like a lot to wrap your head around, don't worry – it's expected that electric vehicles will move to a more standardised system with only two types of chargers (Type 2 for fast charging and CCS for rapid). This will hopefully simplify the EV charging process further.
Will I always need a connector to charge my EV?
If you're using a slow or fast charging station, you will need to use your connector and attach it to both the EV and the charging point. However, rapid and ultra-rapid charging stations usually have the connector tethered, so you'll only need to plug that into your EV.
Whichever option you use, it's wise to travel with your own charging cables at all times. Cables are usually somewhere between four and 10 metres long, but if mobility is an issue, longer cables are available and can be purchased separately.
Search the full range
If you'd like to join the 600,000 customers already enjoying the benefits of a worry-free lease package through the Scheme, start exploring the full range of cars available using our Car Search tool to narrow down your options.
What type of connector will my Motability Scheme EV come with?
All of the electric cars available on the Motability Scheme will come supplied with the necessary cable to charge them. But because it's by far the most common type used, you are most likely to have a fast-charging Type 2 connector. However, this will depend on the model of EV you choose. 
Are EV connectors easy to use?
Charging your EV will very quickly become second nature, particularly if you've used petrol or diesel pumps at filling stations before. Connecting and disconnecting can take a little more force than inserting a traditional nozzle into a petrol/diesel tank, making it a little more challenging, but this is an issue that has been identified and is now being addressed by manufacturers. Motability, the Charity, is working in partnership with the Office for Zero Emissions Vehicles (OZEV) to make charge points more accessible for all drivers by the summer of 2022.
How can I find a public charge point for my car?
There are plenty of online resources showing charging points across the UK. Zap Map is a great resource, which details the locations of more than 25,000 public charge points across the UK. Helpfully, it even colour codes the charge points to signal the different speeds and connection types you'll find at each location.
If you are leasing your first pure battery electric vehicle through the Motability Scheme, a home charge point is included at no extra cost. If you don't have off-street parking, or it's not possible to fit a home charge point, you will be able to access a network of easy on-street charging points – again, Zap Map makes it simple to find the options closest to you.
To find out more about the charging options available on the Scheme, please speak to your dealer when choosing your car. You can also find out more by visiting the electric cars section of our website.
Related articles
Electric cars: Information and Drivers' Guide
Electric vehicle charging: your questions answered
6 ways to maximise your electric vehicle's driving range