In this article, Richard Aucock from Motoring Research reviews five electric vehicles (EVs) available to lease on the Motability Scheme (July-Sept 2021). We've made sure there's something for everyone, plus the Nissan Leaf, MG ZS, Mini electric and Volkswagen ID3 listed here are all currently available with no Advance Payment.
The prices shown are valid for applications placed before 30 September 2021.
---
2021 is shaping up to be the year of the electric car. Interest in them is growing rapidly, a trend underlined by ever more people signing on the dotted line to take delivery of a new zero-emissions electric car. Even many seasoned car industry observers are expressing surprise at how quickly Brits are embracing the electric car. Helping grow demand is the fact electric cars have never been more affordable: indeed, on the Motability Scheme, there are even models that can be taken for no Advance Payment (this means that you simply exchange your qualifying mobility allowance).
New for 2021 is an added extra for pure electric cars – they can showcase their environmentally-friendly credentials with a bespoke registration plate carrying a green stripe. In the future, this will help electric vehicle (EV) owners access zero-emission zones in cities, and even benefit from any free parking initiatives reserved for electric car drivers.
Here are five great electric cars currently available on the Motability Scheme.
Hyundai Kona Electric Premium 64kWh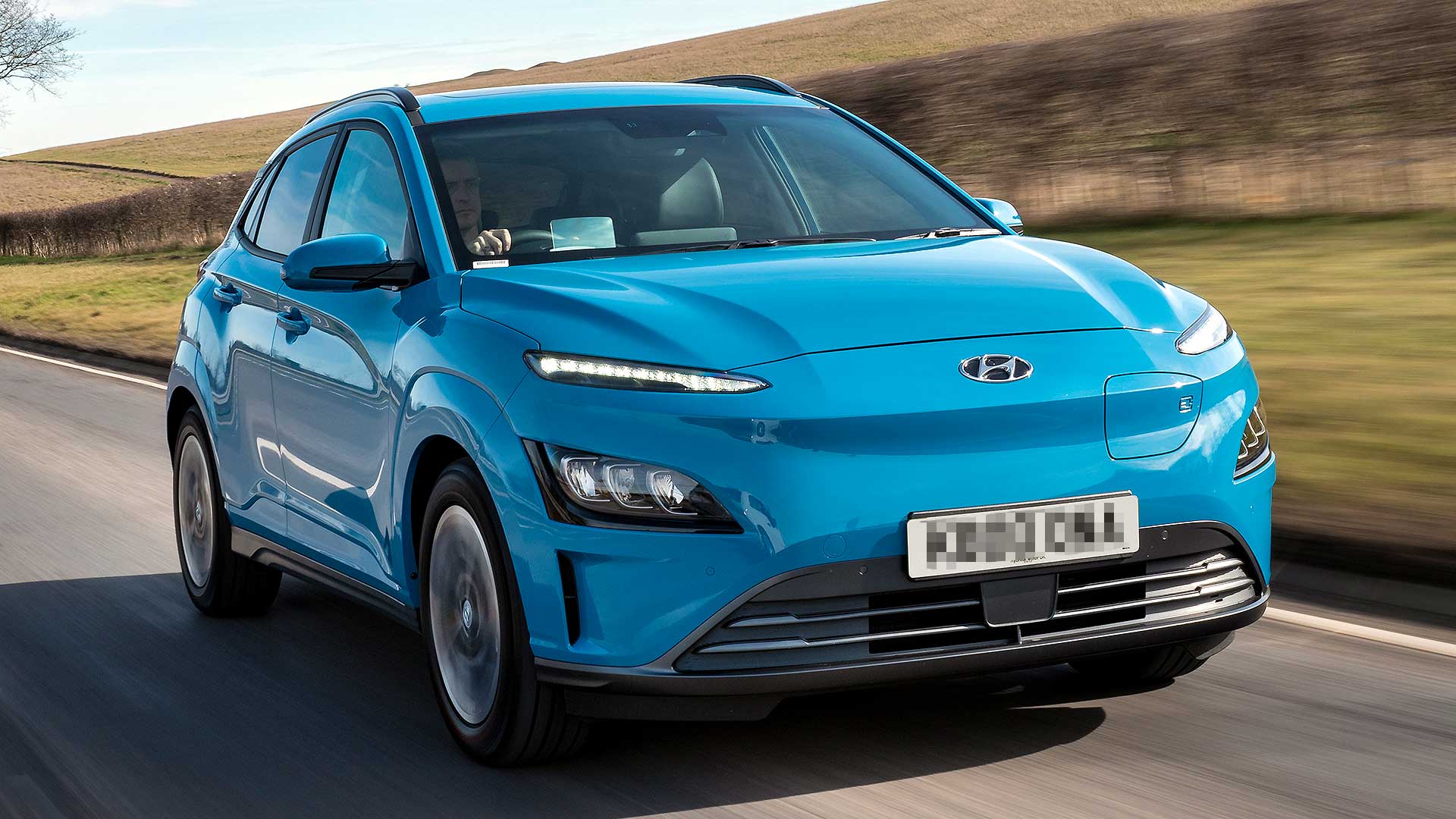 What sort of car is it?
The Hyundai Kona Electric is a pure electric small SUV that is a more fashion-conscious alternative to the Hyundai Ioniq Electric hatchback. Owners like its raised seating position and bold styling, which has been refreshed for 2021 with a sleek new nose and extra premium touches outside and in.
Why is it so popular?
Small SUVs are very popular: combine the funky bodystyle with a pure electric drivetrain and it's easy to understand the appeal of the Kona Electric. Premium grade comes with a good amount of standard equipment and motorists like the safe-feeling, high-set seats. 
Impressively, the powerful 64kWh battery means it has one of the longest electric driving ranges of any car in this sector, capable of a staggering 300 miles in between charges. It is an EV that's more than ready to take on long distances – and a powerful onboard charger, which comes as standard, means it can use some of the latest high-speed public chargers for faster top-ups, too.
MG ZS EV Excite 45kWh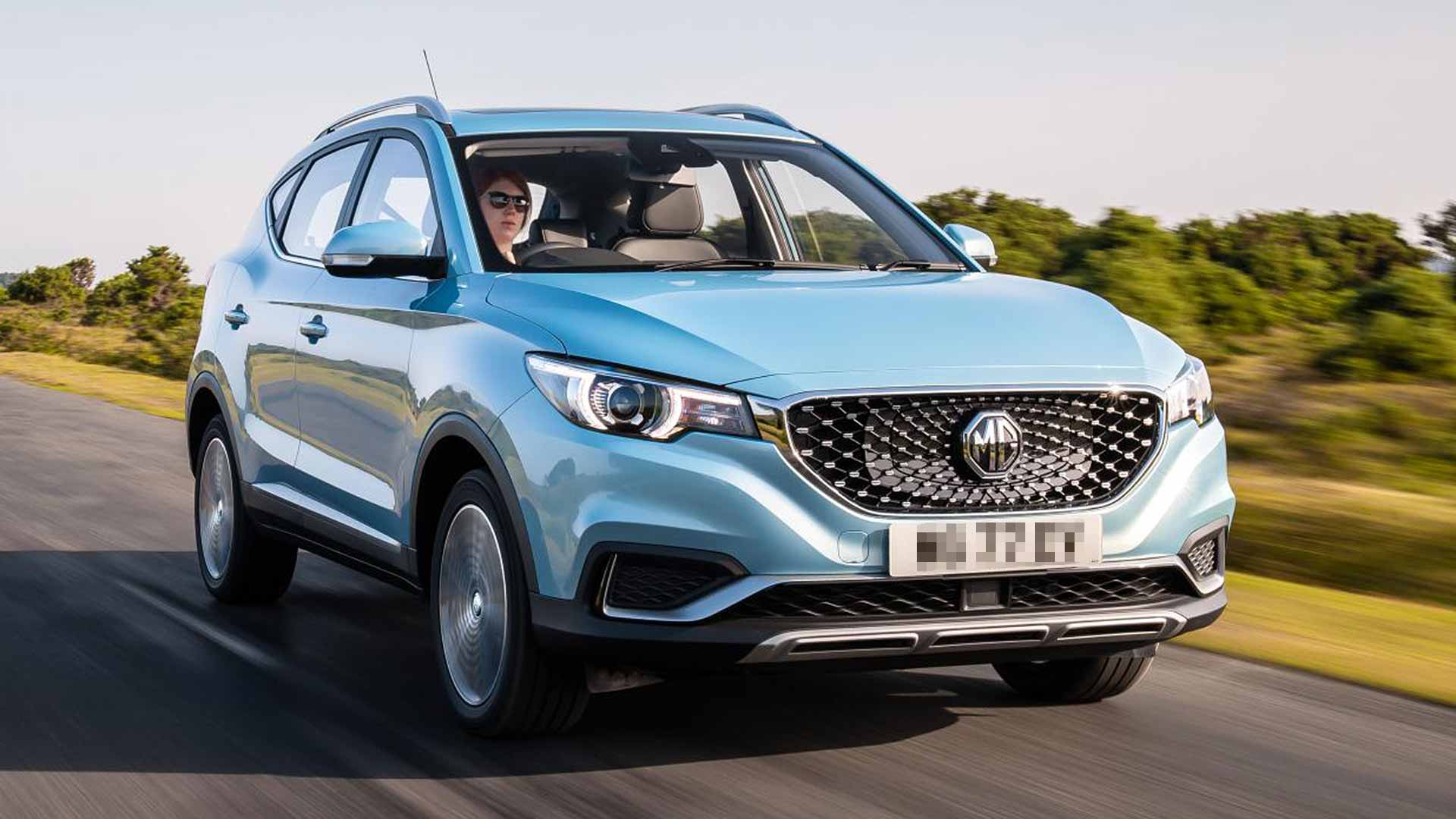 What sort of car is it?
MG is a famous British brand that's been revived in recent years and refocused on offering an extensive range of pure electric cars. The MG ZS EV, a crossover SUV, is one of its most popular models, once again combining an EV drivetrain with a fashionable and rugged-looking bodystyle.
Why is it so popular?
The sheer accessibility of the MG ZS EV is a key part of its popularity. The car is available for no Advance Payment, meaning it's a barrier-free EV choice for those keen to make the switch. Excite grade has all the essential features as standard and the ZS EV is a particularly spacious small SUV front and rear. The 470-litre boot is a generous size, too.
The 45kWh battery gives a driving range of 163 miles, which extends further to 231 miles if you restrict usage to the city. It's no slowcoach either, with 141hp giving plenty of oomph when you press hard on the accelerator. Even the rotary gear selector is noteworthy – it's like one from a Jaguar luxury car.
---
Are you considering an electric vehicle? Did you know that if you're a Motability Scheme customer then you can have a charge point installed at your home, or gain access to a network of charge points for easy on-street charging? Read more about this initiative here.
---
Nissan Leaf Acenta 40kWh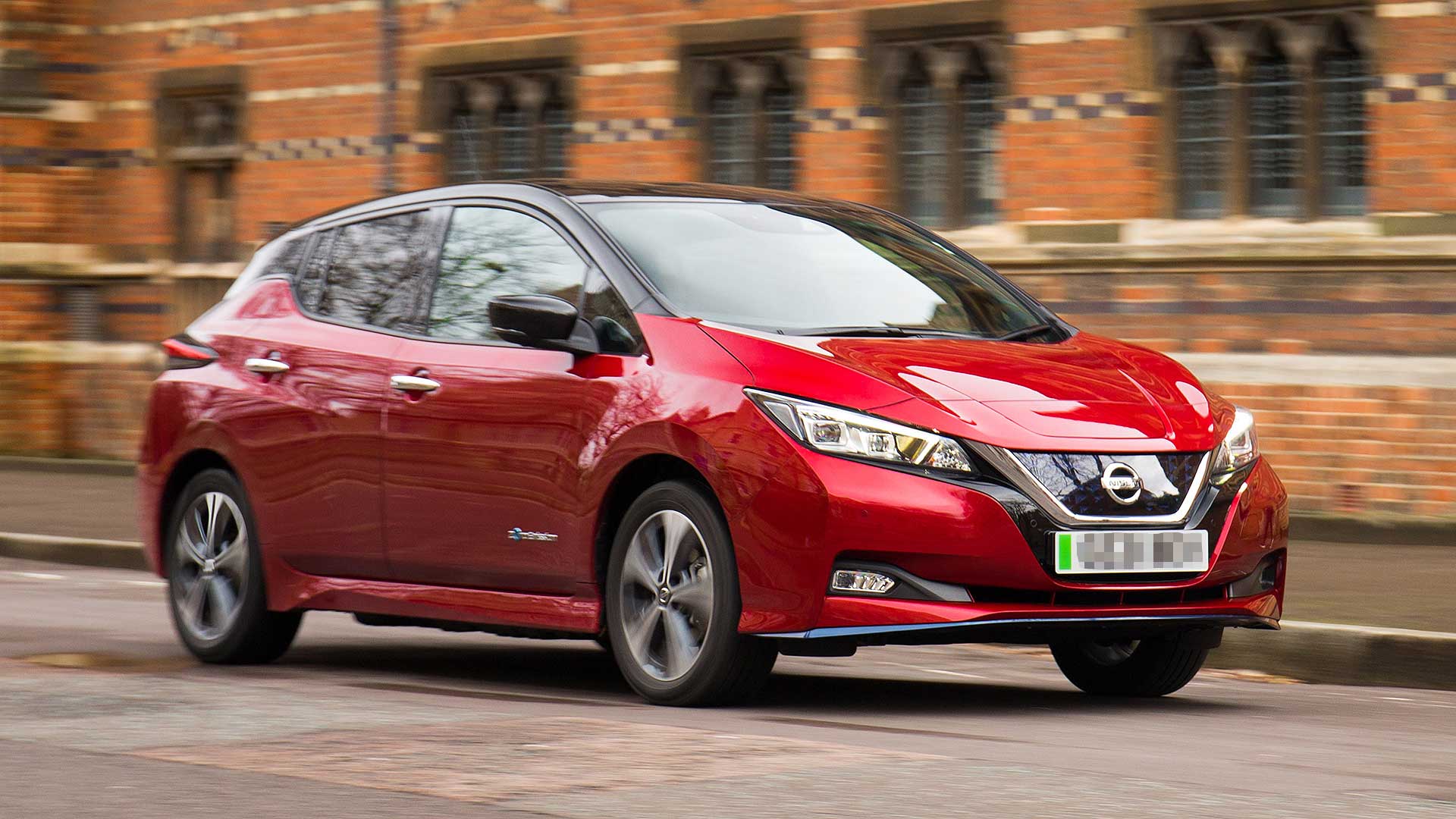 What sort of car is it?
The Nissan Leaf is, famously, the world's first mainstream electric car. The line dates so far back, it's already on its second generation, seen here, even as some rivals take their time to launch even their first EV! Sporting a distinctive, edgy look, the Leaf has the added positive of being built here in Britain, at Nissan's huge Sunderland factory.
Why is it so popular?
Many people were introduced to pure electric motoring by the Nissan Leaf. There are thousands in operation on UK roads and it is a familiar sight at public EV charging bays across the land. Nissan used the feedback from owners of the first-generation model to hone this latest version, making it even more fit-for-purpose.
In 40kWh guise, it is another EV that is available for no Advance Payment. Those who may need a longer everyday driving range can choose a version with a more powerful battery, but even this 40kWh model can do around 145 miles on a full charge. The Leaf can use fast-charging 50kWh public chargers too, delivering many miles of range in just a few minutes.
Mini Electric Level 1 33kWh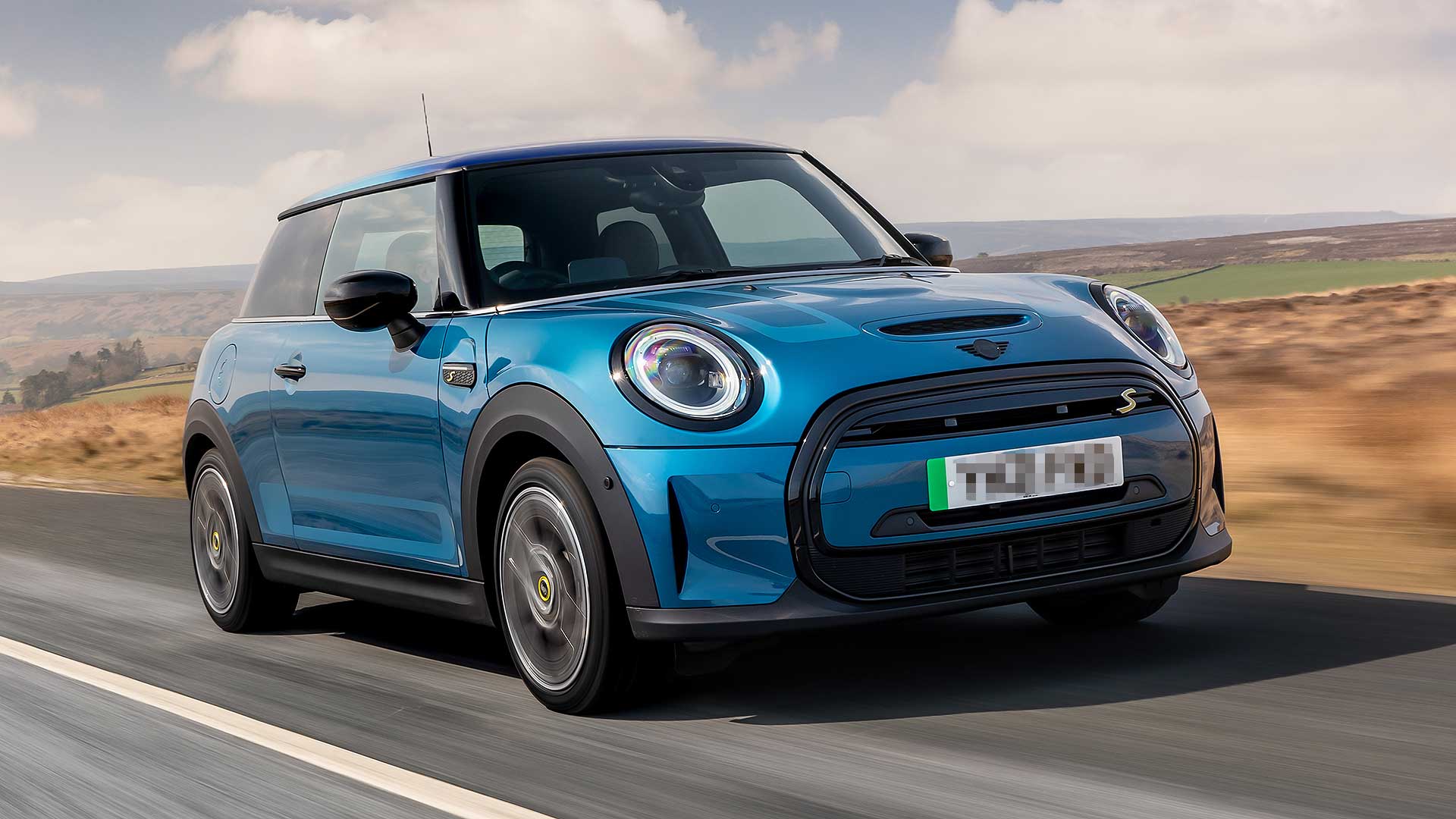 What sort of car is it?
The legendary Mini Hatch three-door has been reinvented as a pure electric car that's ready for the future. The company has intentionally kept the familiar profile of the regular car, to normalise the idea of going electric – and a facelift for 2021 has retained the freshness of the line-up too.
Why is it so popular?
Owners adore the Mini because it's such a fun and enjoyable car to drive, and this remains true for the electric version too. Indeed, thanks to the instant surge you get when accelerating, and the silent-running smoothness, it enhances the experience further, particularly when combined with the famous Mini go-kart handling.
Mini claims 144 miles on a full charge, and adds it will deliver more miles when kept to its natural habitat, the city. The car has a 'CCS' onboard charger that allows it to use rapid chargers, for faster electricity top-ups when on the move.
Volkswagen ID.3 Life Pro 62kWh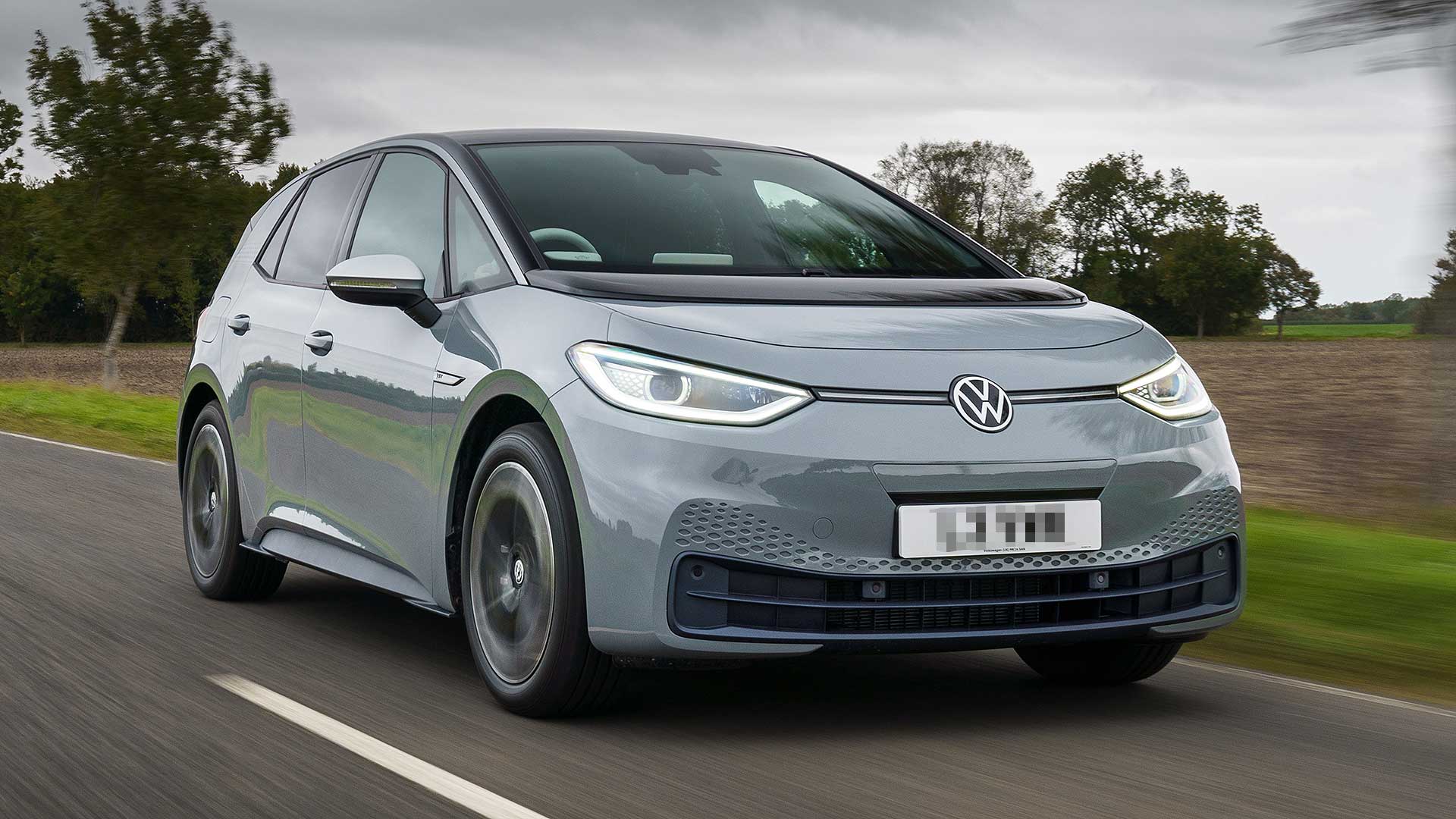 What sort of car is it?
The radical Volkswagen ID.3 is being billed as the firm's car of the future that's available today. The spiritual successor to the famous VW Beetle and iconic VW Golf, the all-electric ID.3 aims to be a similarly significant sales success to its ancestors, bringing pure electric motoring to the masses.
Why is it so popular?
Distinctive design sees the ID.3 immediately stand out on the road. Yet the five-door hatchback design is also extremely practical, with better space for passengers and luggage than most conventional family cars. Volkswagen has pushed the boundaries with interior design too, the ID.3 sporting a clean and contemporary feel.
Available for no Advance Payment, this Life Pro version comes with a large 62kWh battery. This gives an electric driving range of 263 miles, more than enough daily range for all but the highest-mileage drivers. A decent 145hp of power from the electric motor gives snappy performance too – all while enjoying the smoothness and silence of pure electric motoring. 
What are the pricing options?
There are three pricing options available when leasing through the Motability Scheme:
Cars that cost less than your mobility allowance:
There are around 40 cars that cost less than your mobility allowance, giving you money back to spend as you wish. The amount you pay is fixed during your lease and the remainder is paid directly to you by the Department for Work and Pensions (DWP) or Veterans UK, depending on which mobility allowance you receive.
View less than your allowance cars
Cars that cost all of your mobility allowance:
There are around a further 130 cars that cost the same as your allowance, which means you swap the whole of your weekly mobility allowance for the car of your choice. There is no Advance Payment on these models. These cars will display the words 'Total Mobility Allowance' on the specifications page for weekly rental amount on the Car Search tool.
View Total Mobility Allowance cars
Cars that cost all of your mobility allowance and have an Advance Payment:
You can increase your choice further by paying a one-off, non-refundable upfront payment which we call an Advance Payment. The Advance Payment covers the cost between your  mobility allowance and the total cost of your lease.
View cars that have an Advance Payment
How the payments work?
Payments are deducted from your qualifying mobility allowance every four weeks, then paid directly to us by the Department for Work and Pensions (DWP) or Veterans UK. If you choose a car that costs less than your allowance, the remainder is paid directly to you by the DWP or Veterans UK.
All-inclusive leasing
No matter which car you choose, all come with our all-inclusive package of insurance, breakdown cover, servicing, tyres and glass repair and replacement.
Search the full range
If you'd like to join over 630,000 customers already enjoying the benefits of a worry-free lease package through the Scheme, start exploring the full range of cars available using our Car Search tool to narrow down your options.
Our price lists are updated every three months, so you can be assured you're getting the best prices from each manufacturer. The dates the new prices are published are:
1 January
1 April
1 July
1 October
Interested in joining the Scheme?
About the Scheme
The Motability Scheme offers an all-inclusive package. If you are in receipt of a qualifying mobility allowance you can use it to lease a car, scooter, powered wheelchair or Wheelchair Accessible Vehicle. The Scheme provides flexible and hassle-free access to a brand new, reliable vehicle of your choice. As well as a great choice of cars, we also provide a wide range of Wheelchair Accessible Vehicles, scooters and powered wheelchairs.
Eligibility
To join the Scheme, you must be in receipt of one of the following mobility allowances:
Enhanced Rate of the Mobility Component of Personal Independence Payment
Higher Rate Mobility Component of Disability Living Allowance
Higher Rate Mobility Component of Child Disability Payment (Scotland)
War Pensioners' Mobility Supplement
Armed Forces Independence Payment 
Related Articles 
What's the real cost of having an electric vehicle?
Electric vehicle charging – your questions answered
Hybrid and Electric Vehicles, Pros and Cons