In this article, Richard Aucock from Motoring Research reviews five electric vehicles (EVs) available to lease on the Motability Scheme (January-March 2022). He's made sure there's something for everyone – and the Renault Zoe, Nissan Leaf, Vauxhall Mokka-e and Fiat 500 listed here are all currently available with no Advance Payment.
The prices shown are valid for applications placed before 31 March 2022.
---
Electric cars are on the rise. The government has committed to ending the sale of new petrol and diesel cars from 2030, with only 100% zero-emissions cars allowed from 2035. Many drivers are looking to get ahead of the curve by making their switch to electric right now – and this includes a growing number of Motability Scheme customers.
Did you know?
The Motability Scheme Car Search tool allows you to view all the vehicles on the Scheme. You can use the filters to narrow down your options by fuel type, brand, size and more.
And there has never been a better time to make the switch to electric. Car manufacturers are responding with an ever-expanding range of pure electric cars to choose from, with dozens of models now available on the Motability Scheme. Many of them are even available with no Advance Payment. Add in the cheaper running costs of electric cars compared to petrol or diesel, and it's easy to see why they are growing in popularity.
Supply issues continue to affect the global car industry, so it is worth speaking with your local dealer's Motability Scheme specialist about waiting times for specific models.
Here are a few great electric cars currently available on the Motability Scheme. Use the Car Search tool to discover the full range of fantastic EVs.
Nissan Leaf Acenta 40kWh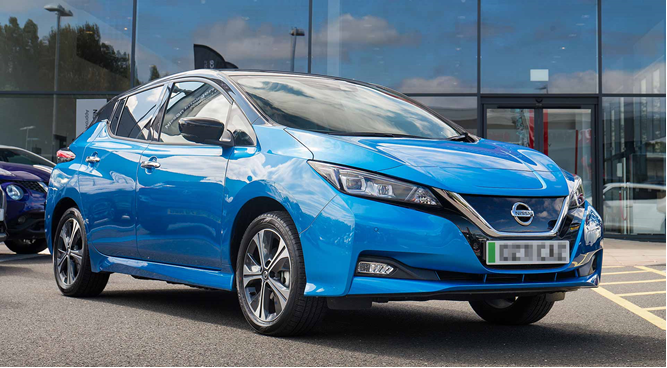 What sort of car is it?
The Nissan Leaf is the car that really started to popularise electric vehicles. It was originally launched more than a decade ago, and this second-generation version continues to be one of the best-selling EVs. It is a family-friendly five-door hatchback with distinctive lines and the added appeal of being built in Britain.
Why is it so popular?
The Nissan Leaf we're looking at here has a 40kWh battery, which gives a range of almost 170 miles. This is more than enough for everyday motoring, and Nissan has a particularly clever smartphone app that lets owners monitor the battery charge remotely – and even turn on the heater before they set out on winter mornings, so the interior is nice and cosy (and all the ice has melted!).
The Leaf has a very spacious 435-litre boot, while its power output of nearly 150hp means it has no trouble making good progress even when fully loaded. The well-equipped Acenta trim also comes with 50kW rapid charge readiness as standard, plus an 8-inch touchscreen which integrates with Apple and Android smartphone devices, and a smart-looking set of alloy wheels. All of this is available with no Advance Payment.
Renault Zoe Iconic Rapid Charge 50kWh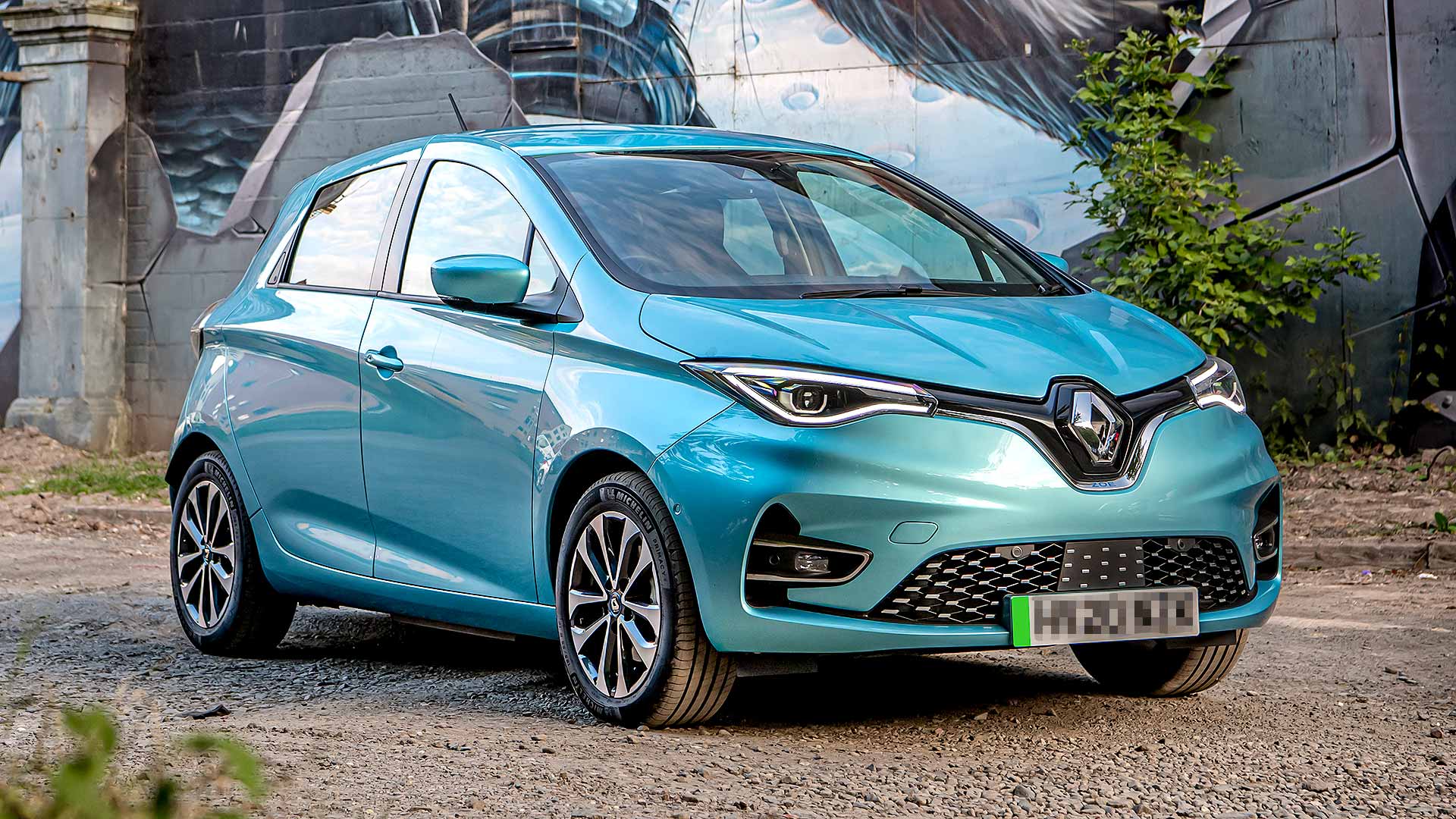 What sort of car is it?
The Renault Zoe is a supermini-sized five-door hatchback electric car, with a roomy interior and generous 338-litre boot. The ever-popular Zoe is one of the longest-running and best-selling electric cars, looking particularly appealing in this sharply-styled second generation guise.
Why is it so popular?
Thanks to a 50kWh battery, the Zoe has an impressive pure electric range of almost 240 miles. Many drivers find they can drive for day after day without having to recharge, which helps take away the issue of so-called 'range anxiety'. This variant comes with a Rapid Charge functionality as standard, which can add 90 miles of range in 30 minutes.
The Zoe Iconic is well equipped, and includes a touchscreen infotainment system that helps you locate nearby charge points while on the move. It is a comfortable car to drive, with light controls and good visibility, and it feels positive and stable through corners. Best of all, it is available to Motability Scheme customers with no Advance Payment.
Vauxhall Mokka-e SRI Nav Premium 50 kWh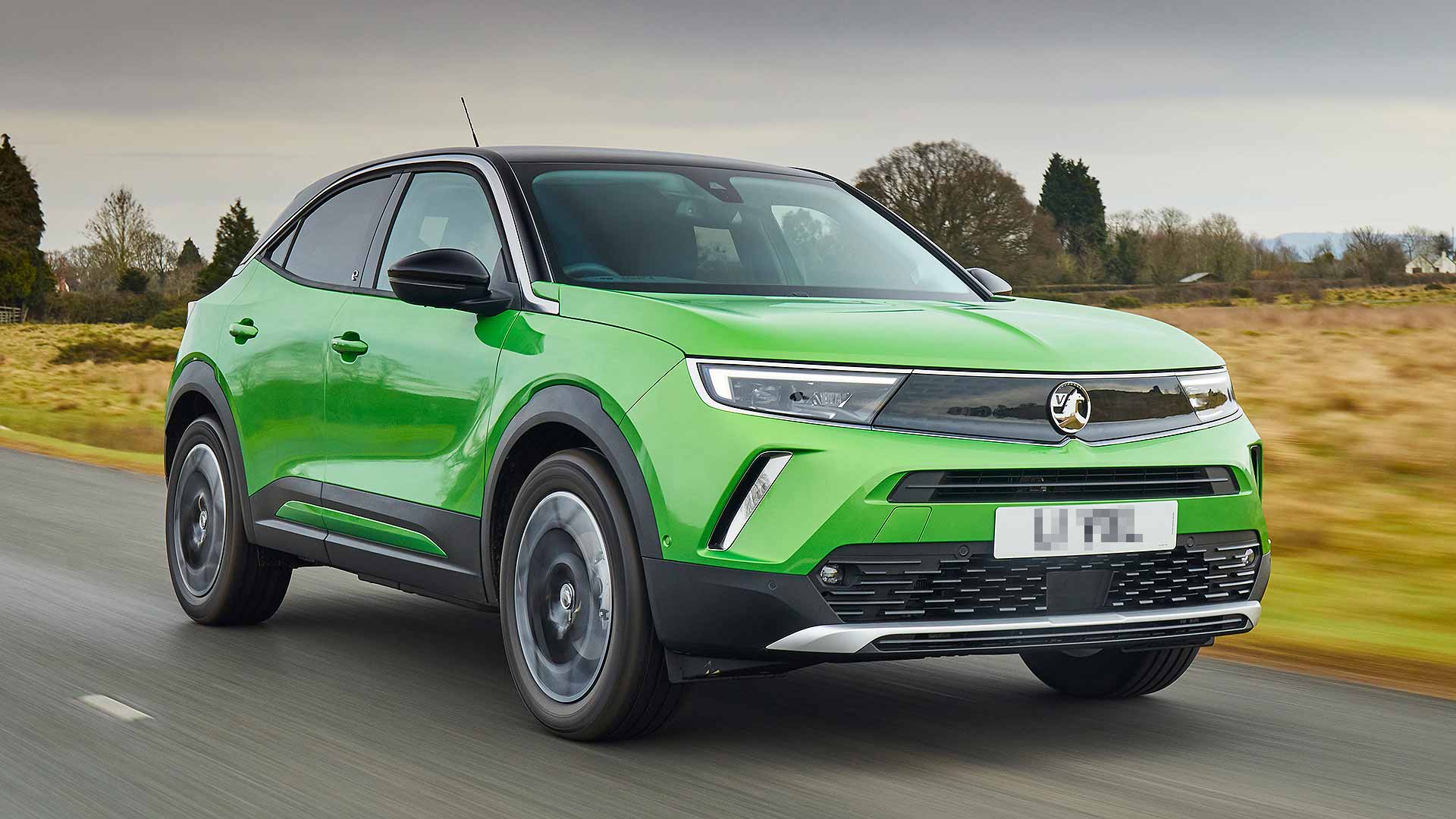 What sort of car is it?
The Vauxhall Mokka-e is a small crossover-style SUV. It is the all-electric alternative to existing Mokka models powered by petrol and diesel. Apart from some discreet badges, it's virtually impossible to tell the Mokka-e apart from its combustion engine siblings – intentionally so, says Vauxhall, as it aims to normalise the act of choosing an electric car.
Why is it so popular?
The latest Mokka-e is winning many fans because of its futuristic styling. It looks very modern and advanced, and is a definite head-turner – particularly in some of the vivid bright colours Vauxhall offers it with. Inside, it has a contemporary feel too, with dual widescreen displays angled towards the driver, and a confident, commanding feel behind the wheel.
The Mokka-e's 50kWh battery gives it an ample driving range of 209 miles between charges. It has more than enough power – and sufficient space – to haul four or even five people, while the 310-litre boot is easy to access. The wide layout can easily be expanded further by folding the rear seats flat. The Mokka-e is currently available in high-spec SRi Nav Premium guise with no Advance Payment on the Motability Scheme.
---
Are you considering an electric vehicle? Take a look at our dedicated section on electric cars, which explains how they work on the Motability Scheme and how we're helping customers make the switch to electric.
---
Hyundai Kona Electric Premium 64kWh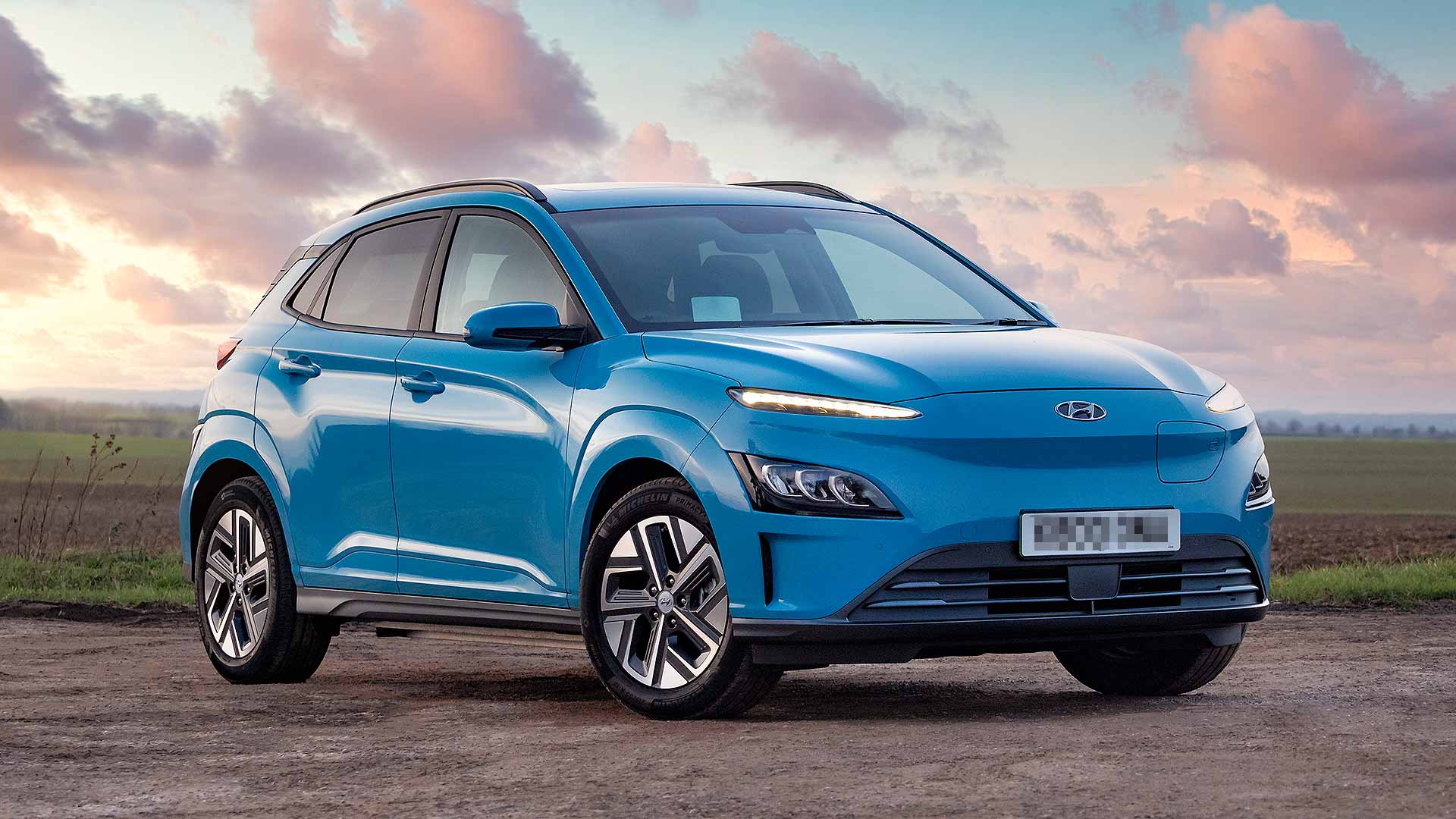 What sort of car is it?
Hyundai currently offers several all-electric models, and one of the most popular is the Kona Electric. This is a compact-sized five-door crossover SUV which, thanks to a facelift last year, has a very appealing appearance that looks distinctive and different. 
Why is it so popular?
While the bold look is an obvious draw for the Kona Electric, this version has another trick up its sleeve. Thanks to a generous 64kWh battery, it has a total driving range of 300 miles – an extremely impressive total that's very similar to a standard petrol version. This helps to reduce range anxiety for those who frequently cover higher mileages.
Using a rapid charger, it can be topped up from almost flat to 80% full in around 45 minutes. And, once back underway, a seriously impressive 204hp power output gives it eye-opening acceleration and plenty of power in reserve. A roomy, well-equipped five-seat SUV, the high-capacity Kona Electric Premium 64kWh is currently available with an Advance Payment of £599.
Fiat 500 Electric Icon 42kWh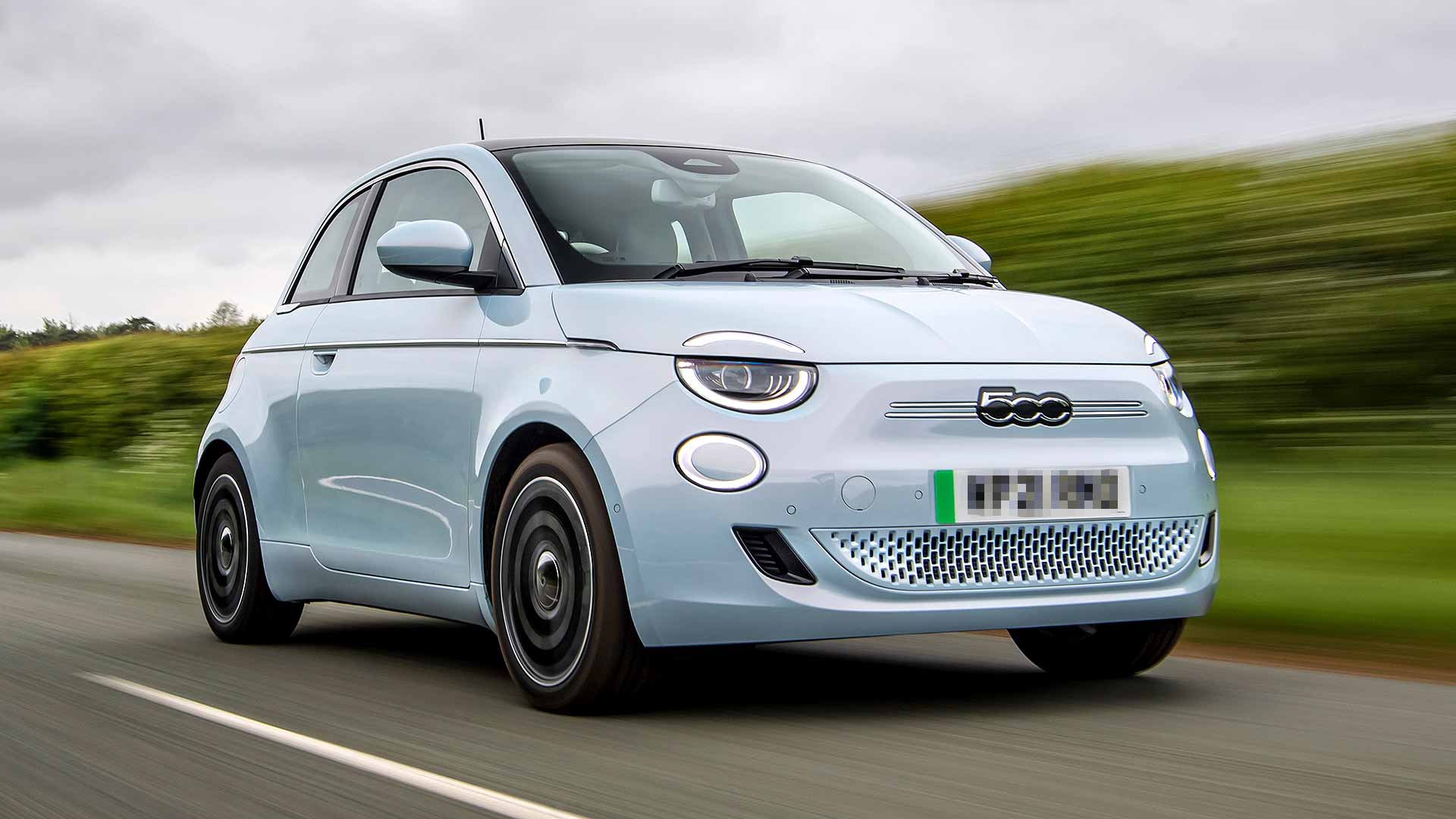 What sort of car is it?
The Fiat 500 is an iconic model. This version has been reinvented as a pure electric car, designed from the ground up to maximise electric vehicle efficiencies. It is as compact and city-friendly as the 500 has always been, but now has newfound EV credentials and a decent driving range as well. 
Why is it so popular?
The entry-level Fiat 500 Electric has a 24kWh battery, giving a 118-mile driving range. Here, though, we're looking at the 42kWh version, whose much larger battery delivers a driving range of almost 200 miles. For the average motorist, that's more than enough to cover a week's worth of driving, let alone a single day.
The beautiful lines of the latest 500 Electric are a designer's dream. The interior is similarly chic, with high-tech touchscreens surrounded by plush materials. The commanding positioning of the comfortable seats give a good view out, and the easy-to-use electric drive setup makes it a breeze to use (and park!) in town. This 42kWh version is available through the Motability Scheme with an Advance Payment of £295; the regular 24kWh version is currently available without an Advance Payment.
Interested in joining the Scheme?
About the Scheme
The Motability Scheme offers an all-inclusive package with insurance, breakdown cover, servicing, tyres and glass repair and replacement included.
If you are in receipt of a qualifying mobility allowance you can use it to lease a car, scooter, powered wheelchair or Wheelchair Accessible Vehicle. The Scheme provides flexible and hassle-free access to a brand new, reliable vehicle of your choice. As well as a great choice of cars, we also provide a wide range of Wheelchair Accessible Vehicles, scooters and powered wheelchairs.
Eligibility
To join the Scheme, you must be in receipt of one of the following mobility allowances:
Enhanced Rate of the Mobility Component of Personal Independence Payment
Higher Rate Mobility Component of Disability Living Allowance
Higher Rate Mobility Component of Child Disability Payment (Scotland)
War Pensioners' Mobility Supplement
Armed Forces Independence Payment 
Use our eligibility checker tool to see if you're eligible.
How do the payments work?
Payments are deducted from your qualifying mobility allowance every four weeks, then paid directly to us by the Department for Work and Pensions (DWP) or Veterans UK. If you choose a car that costs less than your allowance, the remainder is paid directly to you by the DWP or Veterans UK.
What are the pricing options?
There are three pricing options available when leasing through the Motability Scheme:
Cars that cost less than your mobility allowance:
There are around 40 cars that cost less than your mobility allowance, giving you money back to spend as you wish. The amount you pay is fixed during your lease and the remainder is paid directly to you by the Department for Work and Pensions (DWP) or Veterans UK, depending on which mobility allowance you receive.
View less than your allowance cars
Cars that cost all of your mobility allowance:
There are around a further 130 cars that cost the same as your allowance, which means you swap the whole of your weekly mobility allowance for the car of your choice. There is no Advance Payment on these models. These cars will display the words 'Total Mobility Allowance' on the specifications page for weekly rental amount on the Car Search tool.
View Total Mobility Allowance cars
Cars that cost all of your mobility allowance and have an Advance Payment:
You can increase your choice further by paying a one-off, non-refundable upfront payment which we call an Advance Payment. The Advance Payment covers the cost between your  mobility allowance and the total cost of your lease.
View cars that have an Advance Payment
Search the full range
If you'd like to join over 640,000 customers already enjoying the benefits of a worry-free lease package through the Scheme, start exploring the full range of cars available using our Car Search tool to narrow down your options.
Our price lists are updated every three months, so you can be assured you're getting the best prices from each manufacturer. The dates the new prices are published are:
1 January
1 April
1 July
1 October
Related Articles 
Driving an electric car – what our customers say
EV street charging: a user guide
Current challenges in the motoring industry