Technology is evolving all the time and many recent car features and developments could be particularly helpful for people who are looking for mobility support. If you find certain aspects of driving or travelling difficult you may be interested to hear how my preferences have changed over the last few years:
Then
After becoming disabled, the first car I leased through the Motability Scheme had quite a lot of adaptations to enable me, as a multiple amputee, to drive independently:
The key ignition and handbrake lever were both replaced with push buttons;
My driving seat was motorised so I could move my seat forwards;
I had bluetooth controls built into my headrest to activate my headlights and windscreen wipers;
A camera screen on the dashboard so I could see behind when I reversed;
An automatic boot opener so I could open my own boot;
And major changes to the acceleration, braking and steering systems.
Now
Fast forward nearly 20 years and my latest Motability Scheme car came with built-in sensors which activate the headlights and windscreen wipers, a push button ignition, parking sensors and a boot that opens and closes automatically. Adaptations I once had to specifically install to make driving possible were just included as standard features. I don't know if these ideas came from disabled vehicle adaptations but it's clear to see that a push button start is far easier than a key ignition for everyone, and reversing with cameras and sensors is a much better way to avoid bumps and scrapes when parking. When replacing my vehicle, it's important to me that much of this technology is included as standard. This is for two reasons, firstly it's often cheaper if it is already part of the vehicle and I don't have to make the arrangements, and secondly I think it's much less likely to break down if it didn't have to be added on.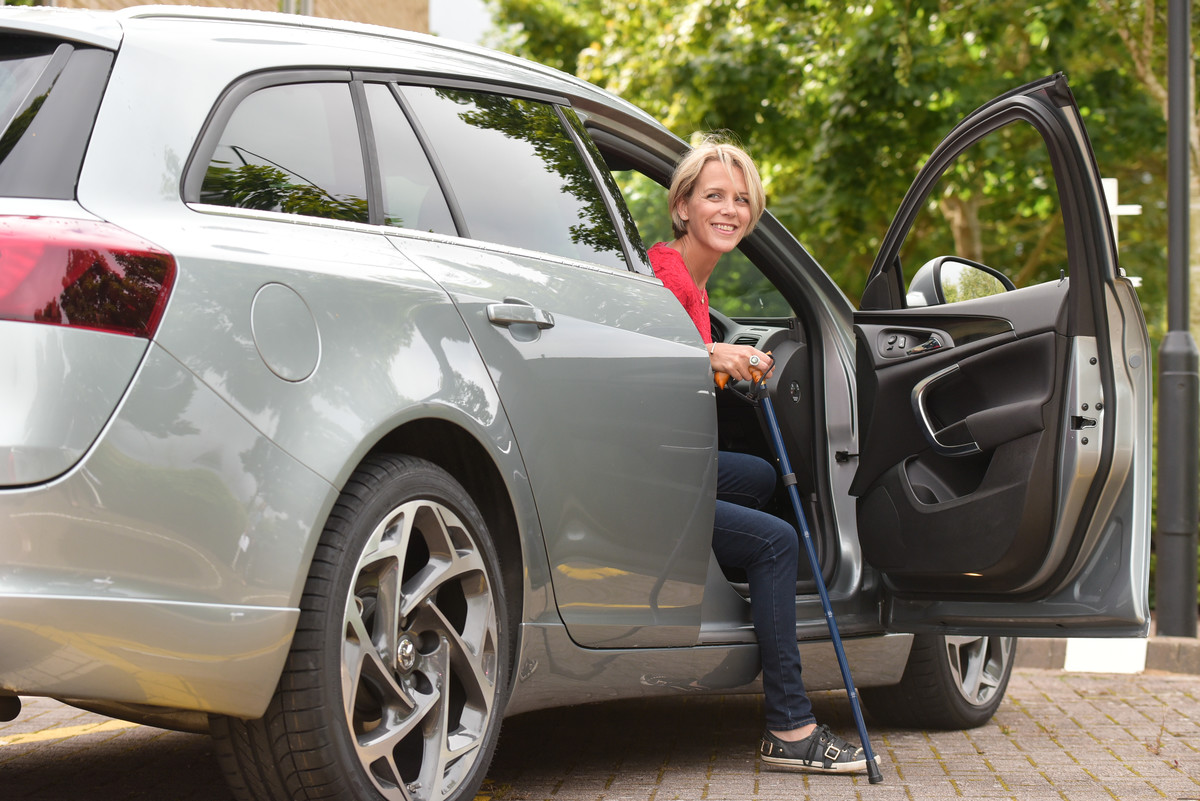 Discover if adaptations could help or search our range of new cars for built-in features
Next
The lease for my current vehicle started in 2013 and I usually keep it for five years as I have extensive adaptations. However, when I replace my car next year not only will I be looking for the in-car technologies I already have but I'll also be looking at what new features are now available which could help drivers like me with reduced strength and dexterity.
One new development I'm certainly keen to try out is "parking assistance", which allows the car to steer itself into a parking space with very little input from the driver, as parallel parking is something I've always struggled with. I would also be interested in finding out if "braking assistance" which automatically brakes the car in an emergency and "driver alert systems" which warn you when your vehicle begins to move unintentionally out of its lane, would help me be a safer driver.
Support available
RICA (Research Institute for Consumer Affairs) have recently carried out desk research and consulted with motoring and disability experts to identify the technologies that are particularly helpful for older and disabled drivers, including people with reduced strength, dexterity, reaction time or hearing. RICA have compiled a report which I'm sure many disabled drivers will find useful when looking for a new car as the report lists the different types of technologies available for a selection of popular Motability Scheme vehicles.
For example, if I was looking at leasing an Audi Q3 a quick look at a table in the report lets me know that this vehicle has hill-start assist, parking assist, braking assist, lane keep assistance and cruise control. However, to enable me to drive my current vehicle I had to have the steering significantly lightened so I am interested in vehicles which have assisted power steering – the table tells me the Audi Q3 doesn't have this but shows me that this is something a Ford Focus does.
Like many Motability Scheme customers there are many things I must take into consideration when choosing my next vehicle such as boot size and how easy it is to get in and out. However, this report does help narrow down your choice further if there are certain in-car technologies you really like to have.
Don't forget, when you lease a car through the Motability Scheme you don't have to drive yourself as you can add up to two named drivers, like friends, family or carers. But if you'd like to see what features could enhance your motoring experience, there is a huge range of over 2,000 cars and 400 different types of adaptations to choose from, so it's well worth spending some time to find the perfect fit for you. The dealership or adaptations installer you choose is completely up to you and there are trained Motability Scheme specialists on hand for advice where needed.
You can read the RICA report here.
Also read: Small cars, estates or SUVs: What type of car suits your needs?
Read More Articles Like This: