Our latest mobility scooter review by independent reviewer Ian Cook looks at three scooters with a range of at least 25 miles. Read on to see Ian's thoughts.
An overcast unusually gloomy cold day in mid-November, when rain or sleet seemed to threaten at any moment, was the perfect time to put three Class 3 scooters through their paces. I went to Ideas in Action in Stechford, Birmingham to check them out.
1. One Rehab Komfi Rider Liberator, weekly rental £23.76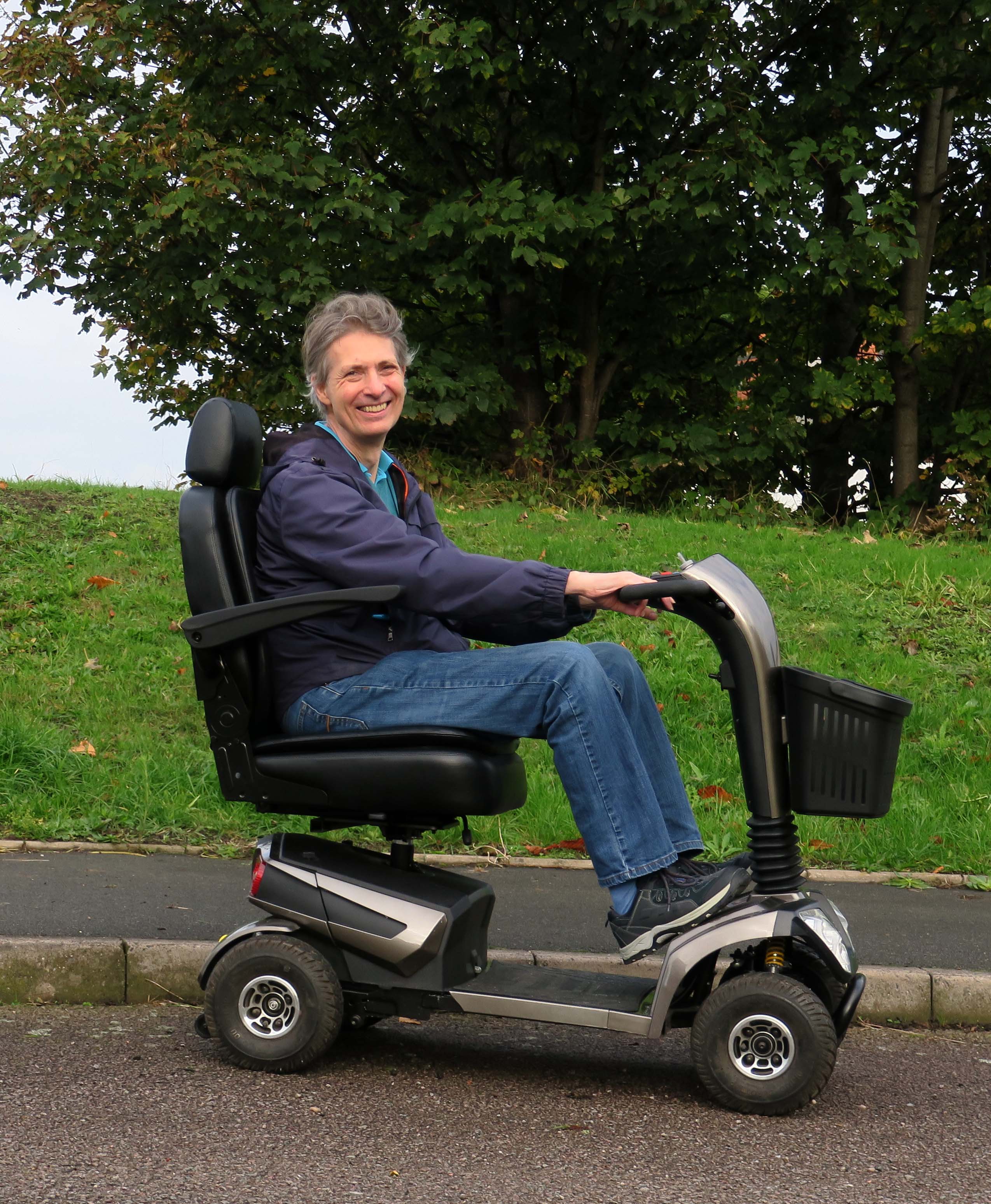 For me, there is no doubt that the Liberator mobility scooter offers the ultimate in manoeuvrability, luxury and comfort. With its sleek and stylish design, the four-wheel scooter is high-performance and comes with two large powerful 50aH batteries giving a maximum range of 25 miles per charge. There's also a choice of air-filled or solid tyres. Weighing in at 103 kg the Liberator is 120 cm in length and height and 62 cm wide. The maximum user weight is 158 kg.
Out on the road, I was particularly impressed by the Liberator's versatility. There was advanced front and rear suspension, a fully adjustable extra-padded seat, a gas-assisted tiller, easy to use delta handlebar, all-round suspension, powerful front and rear LED lights and high visibility rearview mirrors. All of these made for a safe and comfortable ride when I travelled to the shops as well as off-road. In my opinion, this would make the Liberator a fantastic choice for all seasons and for day and night use.
One particularly appealing feature of the Liberator is its compact and highly manoeuvrable design. It was easy to use in confined spaces, making it ideal for places such as shopping centres. It would also make it easy to store and transport. The Komfi Liberator lived up to its name — it was a liberating and comfy experience.
2.TGA Supersport B&C, weekly rental £33.27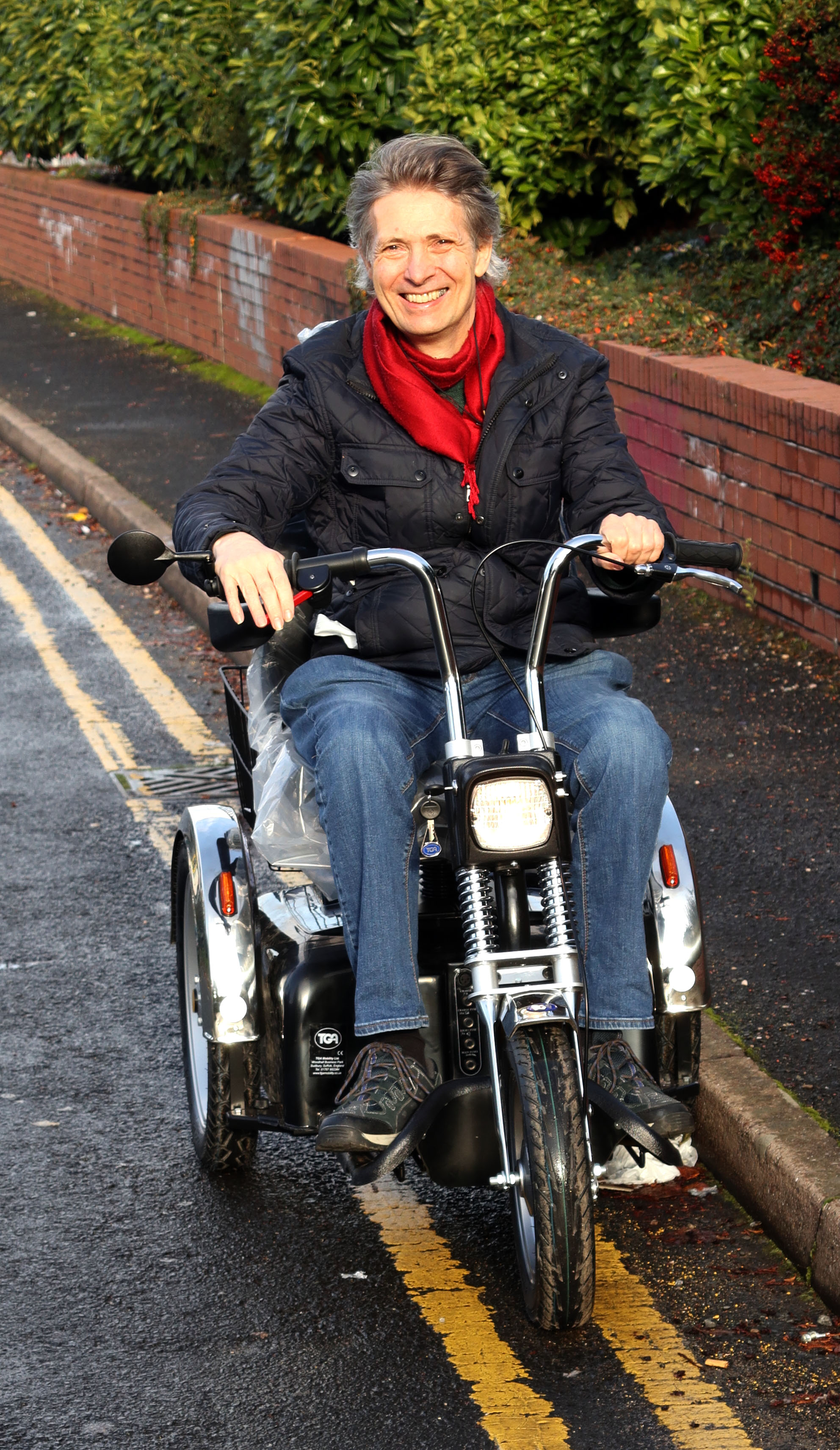 The TGA Supersport is different from every other mobility scooter I think I have ever ridden. With its three big alloy wheels, distinctive handlebars, large front light and three-wheel design, the Supersport seems to have borrowed many ideas from the motorcycle industry. This gives it plenty of style, but there is substance too — outstanding comfort, stability and manoeuvrability.
A powerful 75 aH battery gives an impressive maximum range of 30 miles per charge. On my test drive, the operating lever gave me an amazing smooth finger-tip control of speed going forwards and in reverse. I inched forward, and then quickly accelerated to a top speed of 8mph.
I was pleased to find the steering responsive. An impressive turning circle allowed me to negotiate almost any obstacle. And the Supersport's upholstered adjustable seat made it an exceptionally comfortable ride. Better still, the arms lifted up and the whole seat rotated to allow me to access it easily. The large rear basket, which comes as standard, was a nice touch too. Weighing in at 119 kg, the Supersport is 163 cm in length, 97 cm in height and a slim 74 cm wide. Maximum user weight is 200 kg. My verdict is that the Supersport is super and sporty too. It lives up to its name in every sense.
3. Freerider Landranger XL8, weekly rental £32.89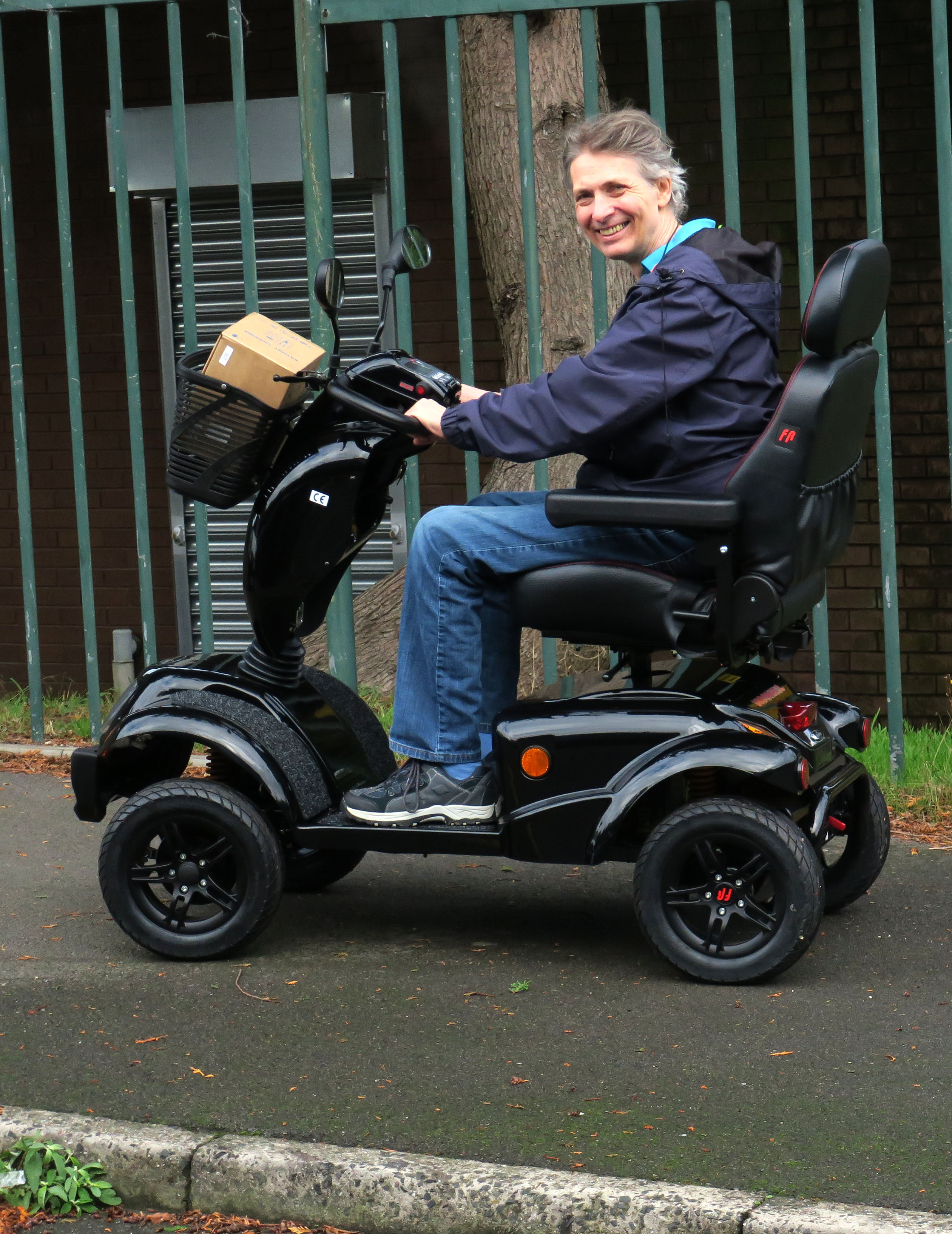 With a maximum user weight of 190 kg, the Landranger XL8 is a robust four-wheel scooter. It feels like it can truly go anywhere: dirt tracks, uneven ground and muddy puddles are nothing to the XL8.
A powerful 86 aH battery gives an impressive maximum range of 26 miles per charge. Weighing in at 160 kg, the Supersport is a heavyweight. It's 152 cm long, 122 cm in height and slim at 74 cm wide, with four solid tyres. Maximum user weight is 190 kg. With a water-resistant LCD dashboard, fixed twin mirrors and indicators, you can see clearly whatever the weather.
Many thanks to Ideas in Action, a Motability Scheme dealership in Stechford, Birmingham, for helping us to bring these reviews to you.
About the Motability Scheme
The Motability Scheme enables you to exchange all or part of your mobility allowance for a mobility scooter, powered wheelchair or car. You can find out more about joining the Scheme here and you can use our search tool to browse the Scheme's full range of scooters.
---
Related articles
Test drive: Folding scooters put to the test
Test drive: Lightweight scooters put to the test
Test drive: Medium scooters put through their paces