Our latest mobility scooter reviews by independent reviewer Ian Cook looks at folding scooters. Many thanks to Ideas in Action, a Motability Scheme dealership in Stechford, Birmingham, for helping us to bring these reviews to you.
Typically powered by lightweight lithium batteries, folding mobility scooters are ideal for short trips around indoor shopping centres or scoots down the road. Once folded, they are transformed into a manageable, compact size—perfect for putting in the boot of your car or a cupboard at home. Here are four examples available with the Motability Scheme.
Electric Mobility Rascal Smilie Auto, weekly rental £23.23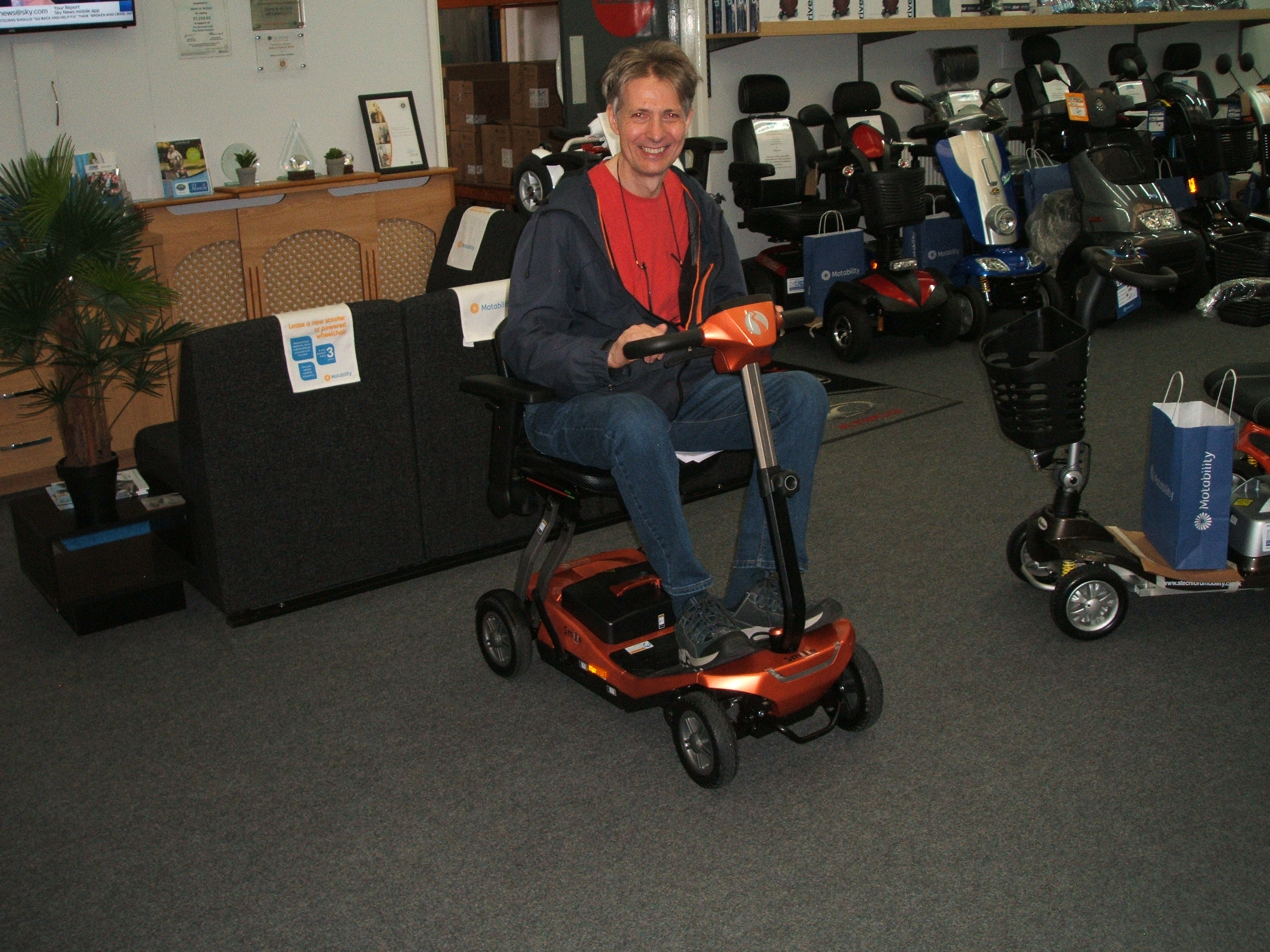 This is a 4 mph Class 2 four-wheel scooter which folds down automatically at the click of a button, making it ideal for easy transportation and storage at home. When you take it out for a spin, it's very manoeuvrable, weighing in at just 30.5 kg.
There are many other positive things to say about it: first, the well-styled delta bar tiller gives the feeling of extra control; second, its compact and clever design makes it easy to manoeuvre. The Smilie has a maximum battery range per charge of 7.5 miles. At 96.2 cm long, 96 cm high and 50 cm wide and with a maximum user weight of 115 kg, it will give you a lot to smile about. It certainly did for me.
One Rehab Globe Trotter, weekly rental £20.61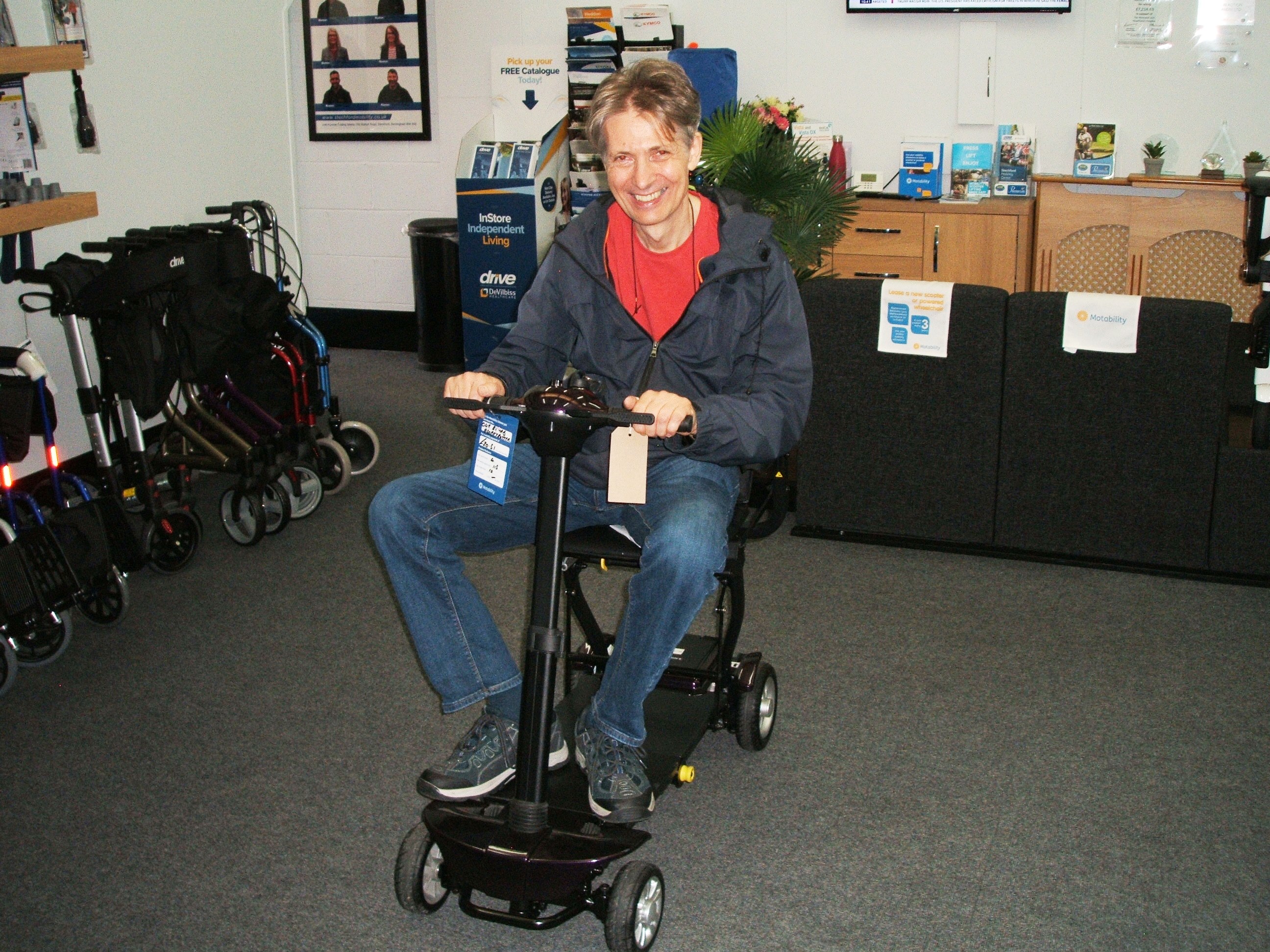 The Globe Trotter is a 4 mph folding Class 2 scooter, designed and manufactured for the busy traveller. It folds down to a compact size for a simple storage solution. It can be easily folded and unfolded by a remote control key fob in just 10 seconds, providing a quick and easy transport solution for users on the go.
One thing I particularly liked was the high ground clearance, which provides stability as well as comfort. Better still, the Globe Trotter is also extremely lightweight at only 29 kg making it ideal for bus trips, flights and cruises. The maximum user weight is 115 kg. The Globe Trotter is 100 cm long, 89 cm high and 54 cm wide and has a maximum range of 10 miles. All in all a nice little run-around, and if I ever go globe-trotting, I'll take one with me.
Monarch Smarti, weekly rental £21.78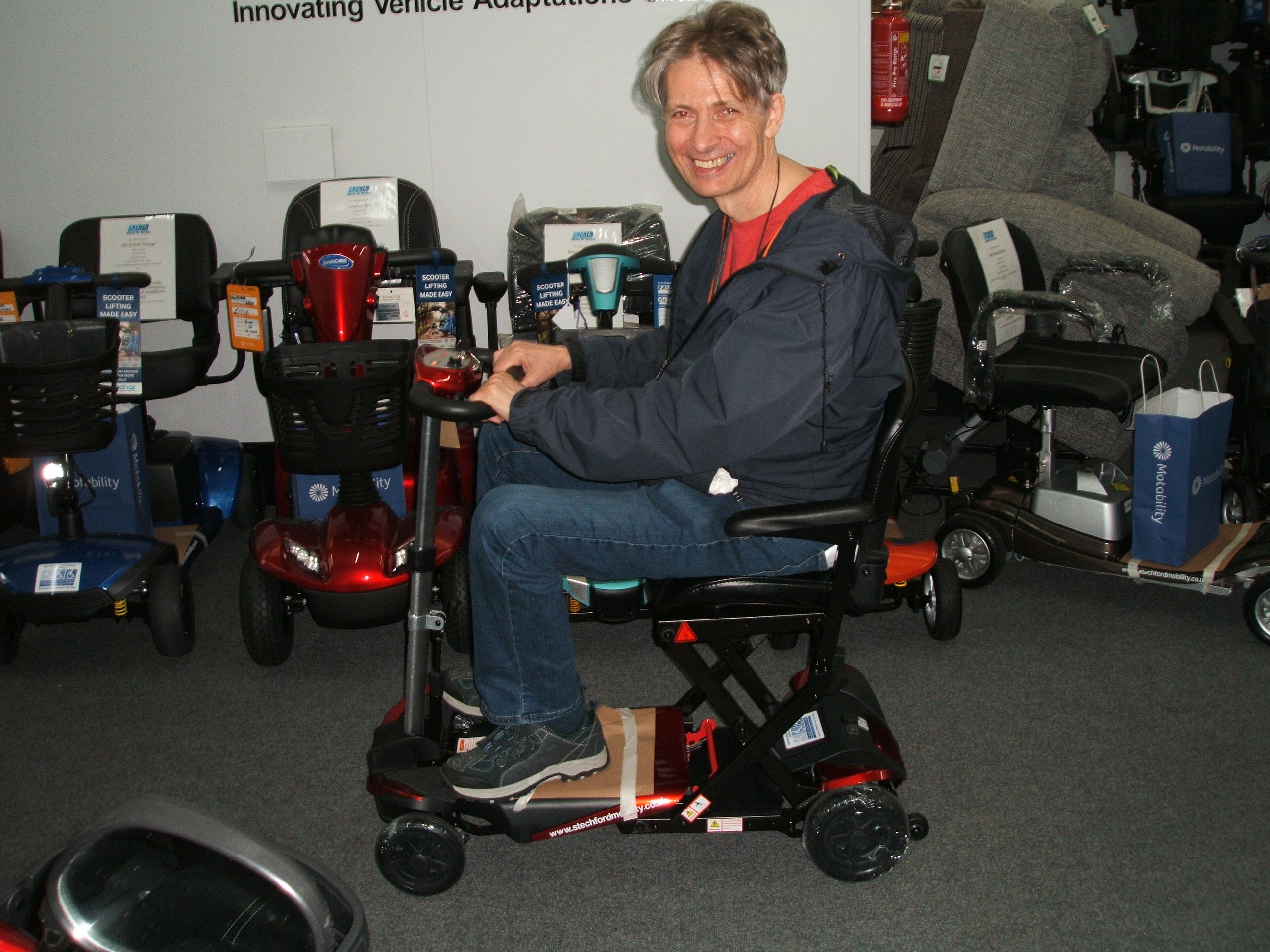 The Smarti is a 4 mph small Class 2 folding mobility scooter. The ease of folding and unfolding the scooter using a remote control key fob means the Smarti is an ideal solution for those who might struggle with this task manually and I was very impressed by how compact it was when folded. I found it to be safe, comfortable and easy to operate
It has solid puncture-proof tyres and an unbelievably light total weight of just 24kg—in fact, the Smarti was the lightest of the four I reviewed and the lightest scooter available on the Motability Scheme. The maximum user weight is 135 kg and the maximum battery range per charge is 10 miles. It is 96 cm tall, 88 cm tall and 46 cm wide—the smallest of this group, too. This compact design makes it ideal for using it on other modes of transport, and it can easily be pulled along the ground like a suitcase. When it comes to the ride itself, the Smarti has a comfortable folding padded seat and a height-adjustable telescopic tiller. It's called a Smarti and, personally, I think it would be a smart choice for many people.
TGA Minimo Plus 4, weekly rental £21.43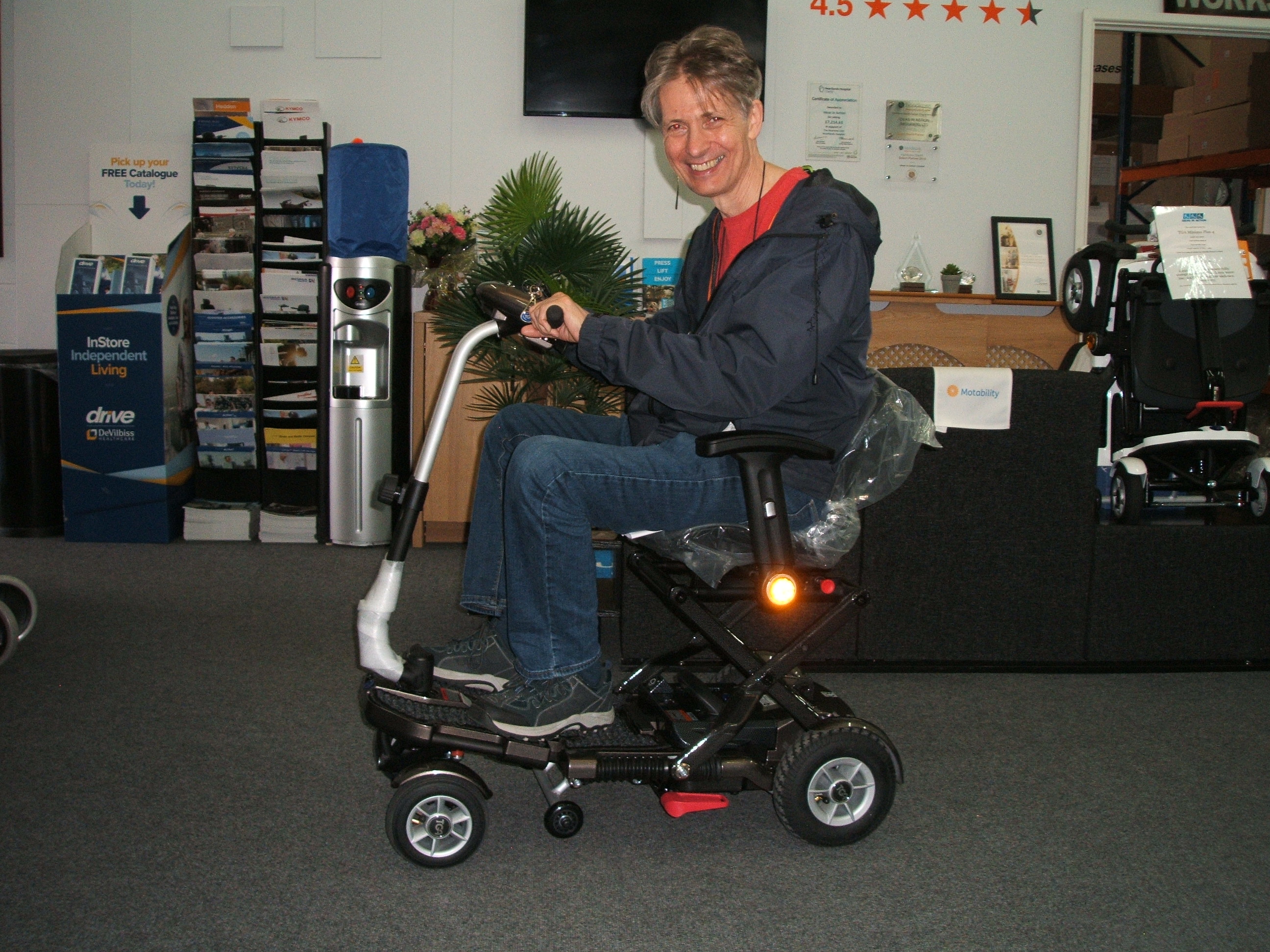 The TGA Minimo Plus 4 is another 4 mph Class 2 scooter with a compact size and simple folding design. I found it to be a very stable and comfortable ride. In part, I think this was down to the scooter's generous legroom (I am 5'11" for reference) but also, the TGA Minimo Plus 4 provided good levels of support and comfort. I was particularly impressed with the pneumatic tyres, which provided an ultra-smooth ride. It's also worth mentioning that it is installed with some excellent safety features such as a sensor to control cornering speeds.
The scooter weighs just 30kg and the maximum user weight is 115 kg. It is 96 cm long, 100 cm tall and 48 cm wide. The scooter's range is 12 miles which is the biggest range of the four scooters I reviewed—although certainly not the lightest. Overall I would say the Minimo Plus 4 has lots of positives and would be a great choice for many people.
The Motability Scheme enables you to exchange all or part of your mobility allowance for a mobility scooter, powered wheelchair or car. You can find out more about joining the Scheme here and you can use our search tool to browse the Scheme's full range of scooters.
---
Related articles
Test drive: Lightweight scooters put to the test
Test drive: Powered wheelchairs put through paces
Test drive: Medium scooters put through their paces