This is the second in a series of powered wheelchair reviews, focusing on Class 2 and Class 3 powered wheelchairs. Class 2 wheelchairs can only be used on pavements, while Class 3 models can be used on the road as long as they have valid tax and are fitted with front and rear lights and a horn. They are all controlled by a joystick and can be used outdoors as well as indoors.
1. Roma Medical Reno II (weekly rental £22.15)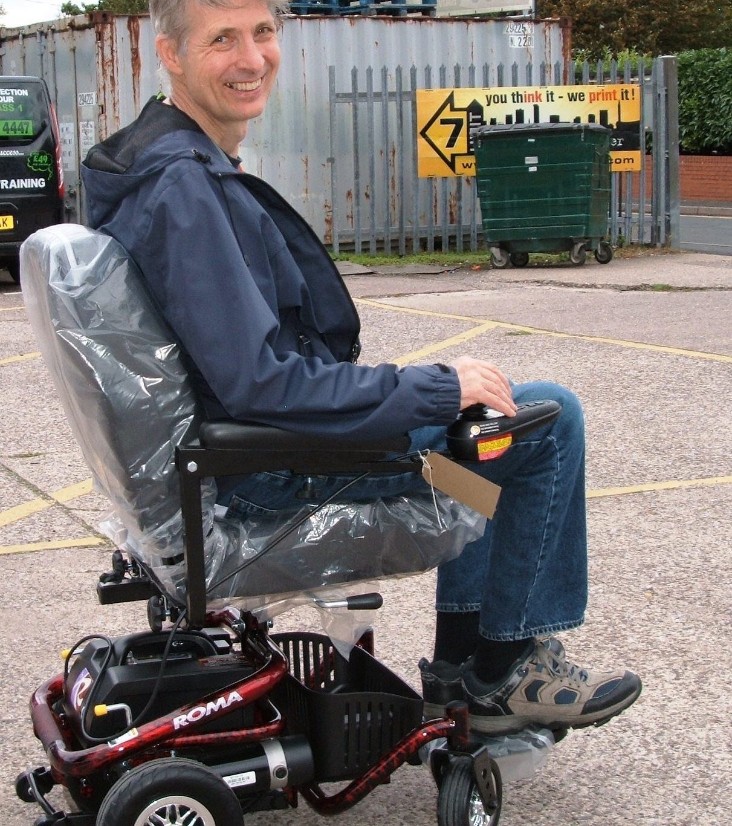 The new Roma Medical Reno II is a Class 2 powerchair that is easy to use and can go 4mph. It can be assembled and taken apart quickly in a way that I found to be ingenious. Even better, I was told it can fit into the boot of most average sized cars. The Reno II is also very compact at just 88.5cm long, 86cm high and 57.2cm wide.
It has a range of 12.2 miles and is very light, weighing just 55kg. The maximum user weight is 136kg or 21 stone. In my test drive, I found that the Reno II was ideal both for indoor and outdoor use. What I particularly liked about it was the ride itself, which was smooth and highly responsive to the joystick control. The large storage basket located under the seat was a nice touch and a really innovative use of space—very practical and clever!
2. Karma Ergo Traveller (weekly rental £23.77)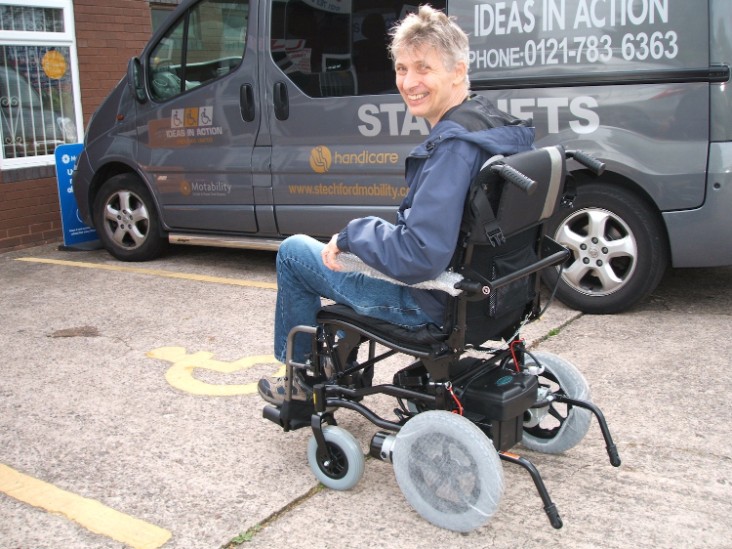 The Karma Ergo Traveller is another lightweight and compact Class 2 powered wheelchair that can go 4 mph. The thinking behind the Karma's innovative design is combining light weight with compact size, giving great manoeuvrability for the user. Although it's slightly larger than the Reno II, The Karma manoeuvres very well. The maximum battery range per charge is 10 miles and it weighs an impressive 49.2kg. The maximum user weight is 115 kg or 18 stone. It is just 103 cm long, 94 cm high and 62cm wide.
What I most liked most about it was the responsive joystick and seating designed to promote pressure redistribution, reduce downward sliding and help maintain good posture. I tried the Ergo Traveller both indoors and outdoors and it worked well on both. I also tried it going up and down an incline and found that the seating seemed to genuinely solve the common "downward slide" problem.
The look of the Ergo Traveller is very modern and it is easy to assemble and take apart. It is available in three models: standard user control (pictured), attendant control and dual user/attendant control—so it really does offer something to meet everyone's needs.
3. Karma Leon Tilt (Sling Seat) (weekly rental £34.26)
Going from Class 2 to Class 3 powerchairs, the Karma Leon is surprisingly compact for a more powerful Class 3 model which can go 8mph. It offers a dynamic drive, well suited to both indoor and outdoor use, with a range of different seating options which would suit many different user needs.
With excellent suspension, the Leon is very comfortable to drive and has responsive joystick control over its 18 mile range. It also features an optional power tilt/recline seat and is available in a range of lively colours. The Karma Leon Tilt weighs 105kg and the maximum user weight is 140kg or 22 stone. It is 102 cm long, 115 cm high and just 62 cm wide. One thing I noticed was the exceptionally narrow wheelbase which allows for great manoeuvrability. I would say that overall the Leon is a superior powered wheelchair and it comes highly recommended.
Whatever your needs when it comes to powered wheelchairs, you will be able to find the right fit for you with the Motability Scheme. Whether you're already a customer thinking about your next lease or you're new to the Scheme, simply search through the full range of powered wheelchairs available and locate your nearest dealer to find the perfect model for you!
---
Related articles
Read all of our scooter and wheelchair reviews
Why choose a powered wheelchair?
The Motability Scheme's top tips for using public transport with a wheelchair or scooter