This is the fourth in a series of mobility scooter reviews by our independent reviewer, Ian Cook. In this review, independent journalist Ian Cook tests three lightweight scooters.
With summer just around the corner, days getting longer and weather getting better, it really is the perfect time to get out more on your Motability scooter. With this thought in mind I travelled to Ideas in Action to check out three Class 2 mobility scooters available on the Motability Scheme and, in my opinion, definitely worth a look.
Roma Denver (Class 2) Weekly rental £15.04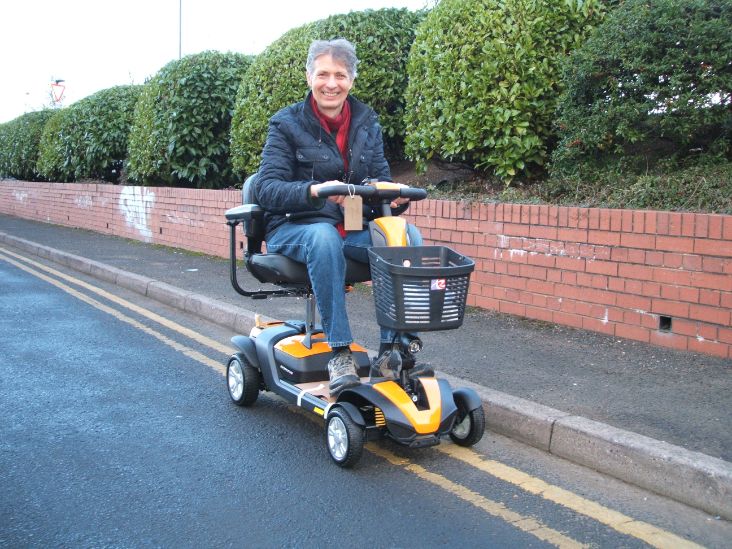 The Roma Denver is a lightweight (56kg or 8 stone 11lbs) mobility scooter, ideal for days out and shopping trips. With a maximum user weight of up to 136kg (21 stone 4 lbs) and a maximum range of 10 miles between charges, this four-wheeler is very nifty and user-friendly.
I was particularly impressed by its comfortable ride and the supportive padded seat that could be moved back and forth, as well as swivelled round. The adjustable angle tiller was very easy to use as was the flip-up and width adjustable armrests. On my ride, I could really feel the effect of the front and rear shock absorbers—very handy when you are tackling uneven pavements with solid tyres.
The bright LED light to the front and stylish mudguards on the front and back are nice touches. A wrap around delta handle, a reasonably sized front basket for shopping and a horn were some of the other nice and practical features. Another great thing about the Roma Denver is that it can be easily taken apart into five pieces and just as easily put back together again. The Roma Denver is available in a stylish orange (pictured) or in graphite grey./p>
One Rehab Illusion (Class 2) DLA weekly rental £18.21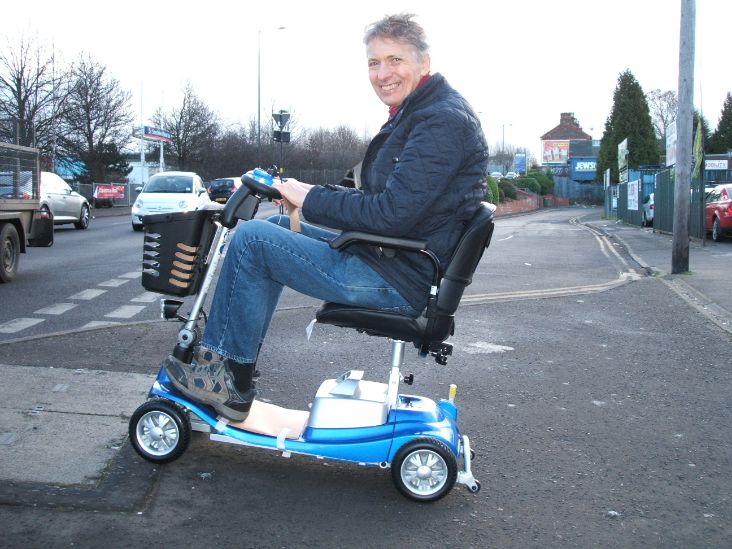 The One Rehab Illusion is fantastic. It's so unbelievably light at just 30.7 kg (4 stone 11 lbs) with aluminium components and a powerful but ultra-light lithium battery pack. This means the battery pack is really easy to handle—something you'll find very useful when it comes to re-charging. It's so light that the heaviest disassembled part weighs under 10kg (that's just 1 stone 7 lbs).
Don't be fooled by its weight. The scooter is comfy with advanced engineered adjustable front and rear suspension and padded supportive seat. I found my ride comfortable even on the illusion's four solid tyres. Other great features include a spacious and comfortable seating position, an easy-to-access tiller charger port, powerful front LED light and secure-grip handlebar. The maximum battery range per charge is 10 miles and the maximum user weight is just over 115 kg (18 stone).
Invacare Colibri 12 (Class 2) DLA weekly rental £12.90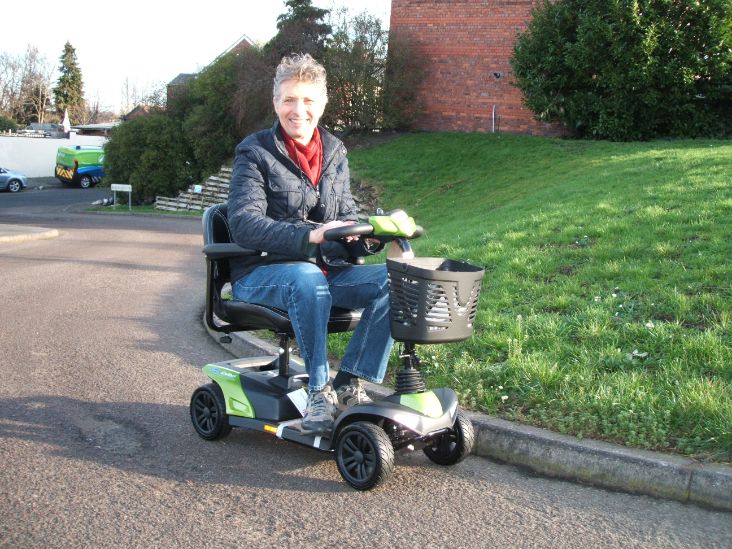 The Invacare Colibri 12 is a stylish, simple and colourful lightweight (44kg or 6 stone 13 lbs) four-wheel scooter. The scooter can easily be taken apart without the need for tools and I was told it fits neatly into an average car boot.
With a small turning circle, the Invacare Colibri offers greater manoeuvrability meaning you can ride easily and stress-free, even in limited spaces—and it has a range of 10 miles. One thing I particularly liked was the handlebar giving you several hand positions to prevent hand and wrist fatigue. The maximum user weight is 136 kg (21 stone 5 lbs).
The Colibri is available in a mix and match colour concept that lets you choose between five different colour panels. These colour panels feature a clip-on mechanism which guarantees that everything fits together and stays in position until you feel like a change. It's a very comfortable and stylish choice.
The Motability Scheme enables you to exchange all or part of your mobility allowance for a mobility scooter, car or powered wheelchair. You can find out more about joining the Scheme here and you can use our search tool to browse the Scheme's full range of scooters.
Many thanks to Ideas in Action, a Motability Scheme dealership in Stechford, Birmingham for helping us to bring these reviews to you.
Related articles
Mobility scooter range: How far can yours travel?
Test drive: Large scooters put through their paces
What to expect if your mobility scooter or powered wheelchair needs a repair