Slap bang in the centre of England, Birmingham is a lively, vibrant city with a hatful of top-notch, fully accessible tourist attractions. This makes it the ideal location for the Motability Scheme's flagship show, The Big Event, which will be held for the first time at the NEC on Friday 6 and Saturday 7 July 2018. The Big Event is the largest showcase of cars, scooters and powered wheelchairs for disabled people in the UK. Here's Rough Guides' round-up of the city's best accessible places to discover while you're in town for the show.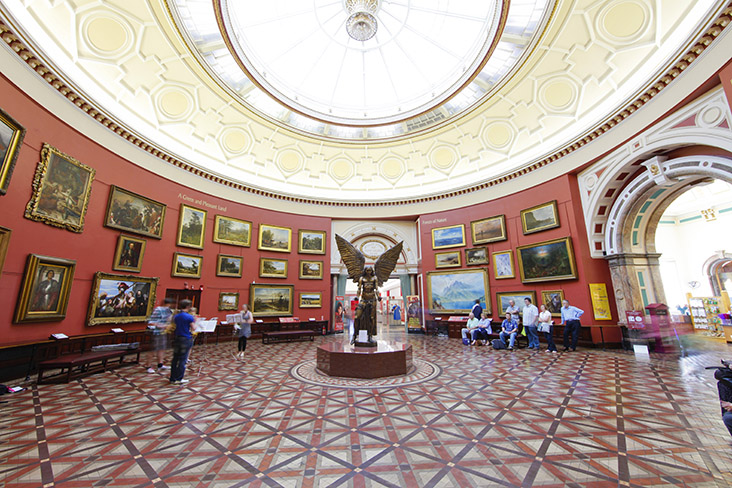 The Round Room at the Birmingham Museum and Art Gallery
There is something to suit every artistic taste here at Birmingham's premier gallery, but the two highlights are the Staffordshire Hoard of Anglo-Saxon gold, silver and jewels, and the world's finest collection of Pre-Raphaelite art. The gallery has Blue Badge parking bays immediately outside, lift access to all floors, seating in the galleries, and drinking bowls available for assistance dogs in the Edwardian Tearooms. Download the access statement to help plan your visit.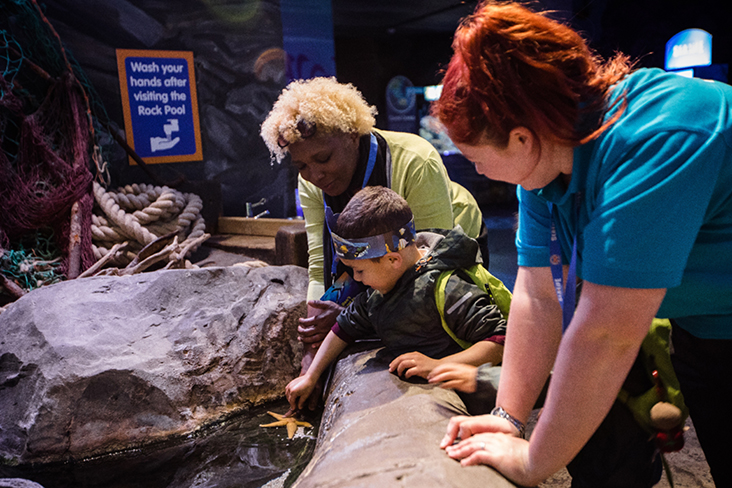 Exploring the rock pool at the National Sea Life Centre
Join the crowds at one of the city's most popular attractions with over 2,000 marine creatures to watch and study, from penguins to sharks and octopus to sting rays. The centre is in a modern, accessible building that includes the fascinating 360 degree-ocean tunnel, a 4-D cinema and several low-view aquaria. Carers get in free with a disabled ticket-holder. There's thorough access information on the disabled access page.
BBC Birmingham has its premises in the Mailbox, the city's glitziest shopping centre. Guided tours, which need to be booked in advance, give visitors a behind-the-scenes peek at programme production, including Midlands Today and, if you are really lucky, The Archers. You can make your own radio play, complete with sound effects, or play with the state-of-the-art technology. Tours last for 90 minutes. See the FAQs section of the website for access information, including wheelchair access and arrival at the venue.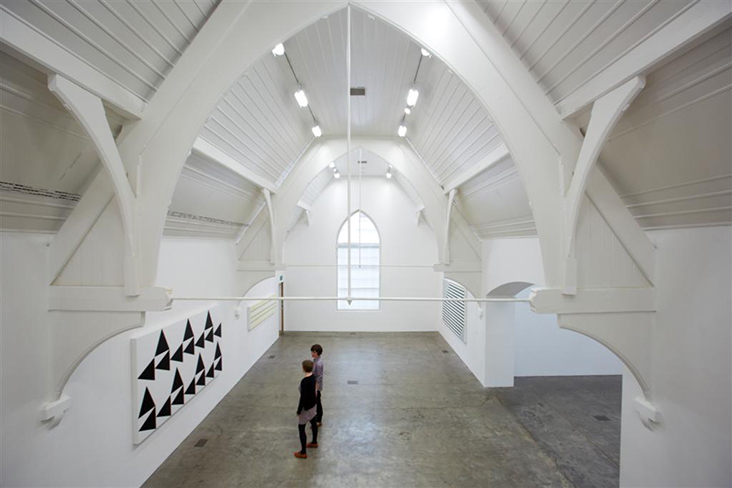 A gallery at Ikon, once a neo-gothic school building
If you like modern and contemporary art, this is the place for you – quite simply it's the best gallery of its type in Birmingham. The Ikon prides itself on its adventurous, ground-breaking temporary exhibitions. It also offers an imaginative range of events, talks and practical workshops, as well as BSL- and audio-described exhibition tours. Entry is free, there's lift access to all floors, low-level counters throughout and induction loops available at reception. Find out more about the Ikon Gallery's access and facilities here.
Millions nibble at Cadbury products every day, and Cadbury World capitalises on this success at their lively interactive centre in Bourneville, a Birmingham suburb. Here, you can try growing your own cocoa tree, making your own chocolate or chasing crème eggs. Kids love the place, and adults tend to enjoy the various tasting experiences. Carers get in free, but you must pre-book. Find out more about their access information here.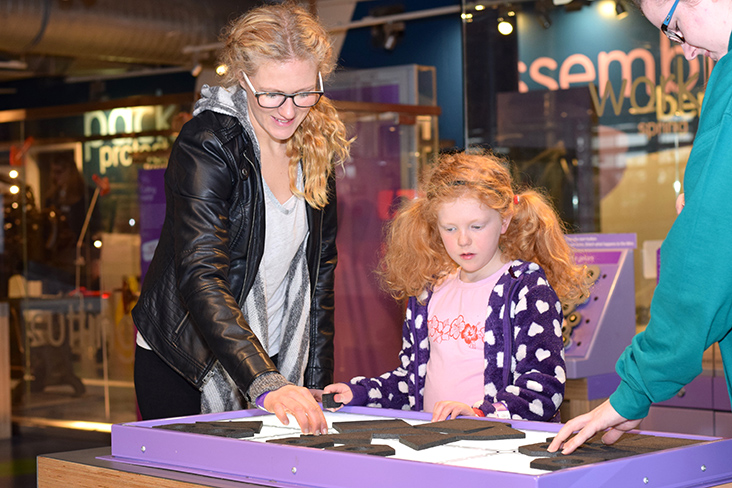 Hands-on science at Thinktank
This hands-on, thrills-and-spills, science and technology museum at Millennium Point spreads over four themed floors, with impressive displays of steam engines and spitfires, space exploration, a science garden and future technology. There's plenty of interactive fun for kids here but adults will enjoy it too: have a bash with a robot drum player or record a news bulletin. Accessibility has been key to the design of this new attraction, with low-level displays throughout. Enablers are on hand to help and there are large-print and Braille guides available.
With every justification, Birmingham is proud of its Symphony Hall, whose magnificent, U-shaped auditorium has possibly the finest acoustics in the UK. It can accommodate over 2,200 people and offers a wide-ranging programme – anything from world music and pop through to jazz and organ recitals. The Hall is also home to the renowned City of Birmingham Symphony Orchestra. There are relaxed performances and it's thoroughly accessible, as you would expect of a modern, prestige building.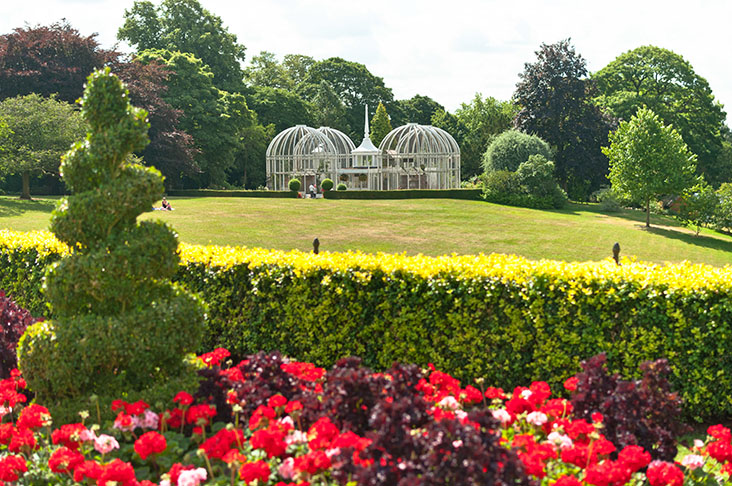 Birmingham's stunning botanical gardens
One of Birmingham's star turns, these lush and leafy botanical gardens are divided into a series of themed areas, including a Japanese garden and the delightful Kingdom of the Green Man. Four large glasshouses focus on sub-tropical and tropical flora. Located in Edgbaston, the gardens are easy to reach by car and have excellent access to all areas along an extensive network of surfaced paths. Mobility scooters and wheelchairs are available for hire.
A top-rated, city-centre venue offering a mixed programme of around 400 performances a year. This includes, amongst much else, touring musicals, international dance, opera and, at Christmas time, the world's biggest pantomime. It's also home to the much-vaunted Birmingham Royal Ballet. The venue offers regular assisted and relaxed performances.
This immaculate gallery in Walsall is one of the region's hidden gems. Showcasing a fragment of its collection of more than 3,000 works international art, the exhibitions span historical to contemporary, with great displays of modern sculpture. Admission is free, and the premises are accessible, with two manual wheelchairs available to borrow and seating around the galleries, and assistance dogs are welcome.
The Big Event: what you need to know
Held over two days, this free event brings together everything available on the Motability Scheme in one place. Highlights include:
Over 150 vehicles on display including cars, Wheelchair Accessible Vehicles (WAVs), adaptations, scooters and powered wheelchairs
The opportunity to test drive adapted and non-adapted cars
Motability Scheme advisors available to answer any questions
Specialist advice from Motability Scheme partners Kwik Fit, RAC and RSA Motability as well as Disabled Motoring UK and Driving Mobility
Free parking and a free tea, coffee or soft drink for every guest
A children's play area including a bouncy castle, face painting and more
As the leading conference centre, the NEC is fully accessible with great facilities for disabled guests. What's more, we want to make sure every visitor to The Big Event has a fantastic time and we know that accessible parking is one of the most important things. That's why we have booked free parking for all visitors to The Big Event. We are also running an accessible golf buggy service from the carpark to the entrance. If you would like to take advantage of this service just look out for the pick-up points in each carpark or speak to one of our friendly carpark hosts.
Visit our website for more information about The Big Event Birmingham and regional One Big Day events in the UK.
The Motability Scheme enables disabled people and their families to access a brand new car or scooter, by exchanging their mobility allowance to lease the vehicle of their choice. If you're new to the Scheme and would like to find out more, request an information pack below or if you would like to start exploring now, visit our website.
Related articles
Celebrating 10 years of our One Big Day events!
Five top tips for planning a test drive at a One Big Day event
There's still time to catch us at one of our summer events!
5 Fun family-friendly things to do at One Big Day
Image credits
Rough Guides would like to thank the following individuals, companies and picture libraries for their kind permission to reproduce their photographs (in order of appearance on the web page):
Header image: Birmingham Botanical Gardens: © VisitEngland/Birmingham Botanical Gardens
Birmingham Museum & Art Gallery: © Craig Holmes/Images of Birmingham.co.uk
National Sea Life Centre: © National Sea Life Centre Birmingham
Ikon Gallery: © Nigel Barker/Ikon Gallery
Thinktank: © Birmingham Museums Trust
Birmingham Botanical Gardens: © VisitEngland/Birmingham Botanical Gardens