Anyone who gets around on wheels will know that town planning can have a great impact on a fun day out – steps, cobblestones and narrow pavements can easily turn a fun trip into a logistical nightmare. Rough Guides author Emma Bowler has selected some excellent locations that are suitable for travel on your Motability Scheme scooter or powered wheelchair, to give you inspiration for some exciting days out this summer. 
Due to COVID-19, it's important to only plan your travels when it is safe to do so, and be sure to check any local regulations before venturing anywhere. Likewise, several of the attractions covered in these towns may be off-limits for the foreseeable future: again, check ahead before you travel. 
ENGLAND
Margate, Kent
The ultra-accessible Turner Contemporary has played a significant role in the regeneration of Margate from "no-go" to "cool". The gallery's huge glass windows allow you to admire the skies that inspired JMW Turner himself, while the shop sells work by local artists – maybe you'll discover the next Tracey Emin? Entry is free, and as well as viewing world-class art exhibitions at your leisure, you can join free daily highlight tours. A short wheel away, you'll find the Old Kent Market with a selection of quirky shops and eateries, including the highly-rated Gina's Old Kent Bakery. Nearby Dreamland, which opens seasonally, offers vintage funfair fun. There are safety restrictions on some of the rides, but many are accessible for non-ambulant visitors. Continuing with the nostalgia theme, head for the Hornby Visitor Centre, where adults and children alike will enjoy finding out about Hornby, Airfix, Corgi and Scalextric – classic British toys at their best. 
Exeter, Devon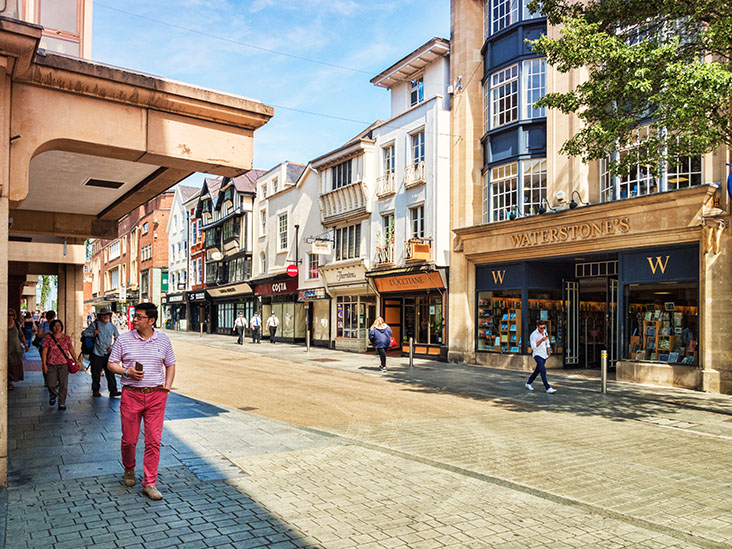 Exeter is a cathedral city, and there's no doubt that the cathedral is the jewel in its crown – the impressive fourteenth-century stone vault is the longest continuous medieval stone vault in the world.  You can also see Captain Scott's sledging flag, an astronomical clock and the Exeter Rondels, a series of more than seventy metres of embroidered cushions that tell the story of national, local and church history. Down the hill, the Quayside is home to a few independent shops as well as cafes, bars and restaurants – the perfect place to people watch and the gateway to miles and miles of fabulous accessible walks with birdlife galore. Back in town, Exeter's accessible high street is complemented by a variety of eateries in the Queen Street Dining Quarter.
Chester, Cheshire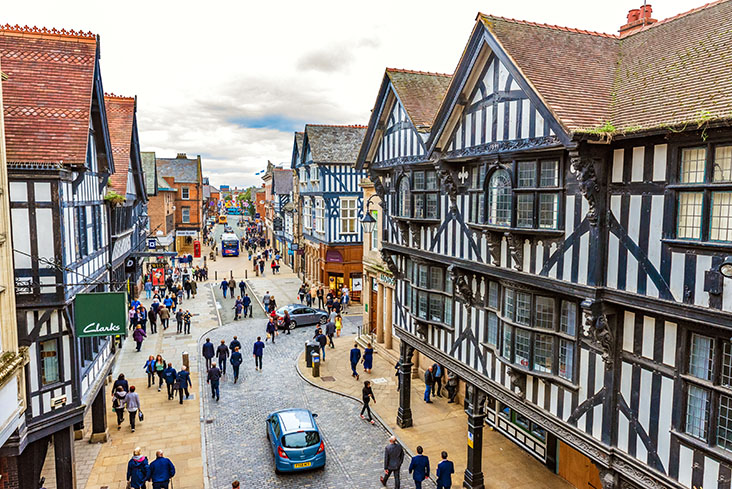 The historic city of Chester was the first in British history to win the coveted European Access City Award – recognition of the city's commitment to improving accessibility, no mean feat considering the city was founded in 79 AD. Chester is also the only city in Britain to have retained a full circuit of ancient defensive walls, and it's possible to gain wheelchair access to some of them using the handy Chester City Centre Access leaflet, which highlights access points and ramps. The city also has the unique feature of elevated walkways on the main shopping streets called The Rows. All sections are accessible to wheelchair users via ramps highlighted on the Access leaflet, doubling your shopping opportunities!  
York, North Yorkshire
York's fully accessible railway station is less than a 15-minute wheel away from the magnificent York Minster, the second-largest gothic cathedral in Northern Europe (after Cologne). Inside, you can admire the stunning Great East Window, the largest expanse of medieval stained glass in Britain, and learn about the history of York and the Minster in the Undercroft museum. Those with a sweet tooth will enjoy a guided tour at York's Chocolate Story – Rowntree's Kit Kat, Smarties and Aero, Terry's Chocolate Orange and All Gold all originated in York. A fun way to explore the city is to follow the Lucky Cat Trail: statues of cats have been put on buildings in York for centuries, to scare away rats and mice and bestow luck. Will you find all 22? 
SCOTLAND
Inverness, Inverness-shire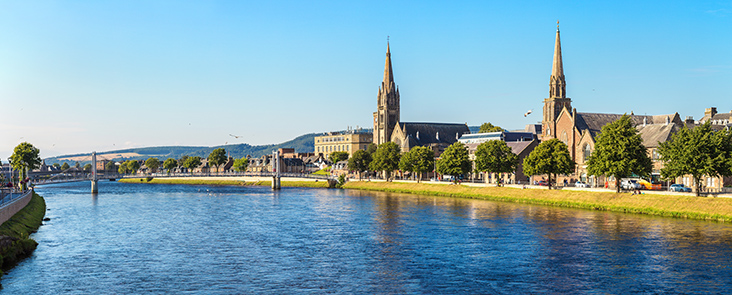 Generally considered the "gateway to the highlands", Inverness is the UK's northernmost city. The River Ness runs through this picturesque city, where highlights include free accessible canal trips with Seagull Trust Cruises (Easter–end Sept, book in advance), Fort George and a tour of the Tomatin whisky distillery, where you can fill your own bottle with Scotland's very own tipple to take home. If you want to return with more than just whisky, the Eastgate shopping centre is the biggest indoor shopping centre for one hundred miles. Down the road you'll also find the accessible Loch Ness Centre, which takes you through five hundred million years of history as well as the story of the infamous Nessie.   
WALES
Llangollen, Denbighshire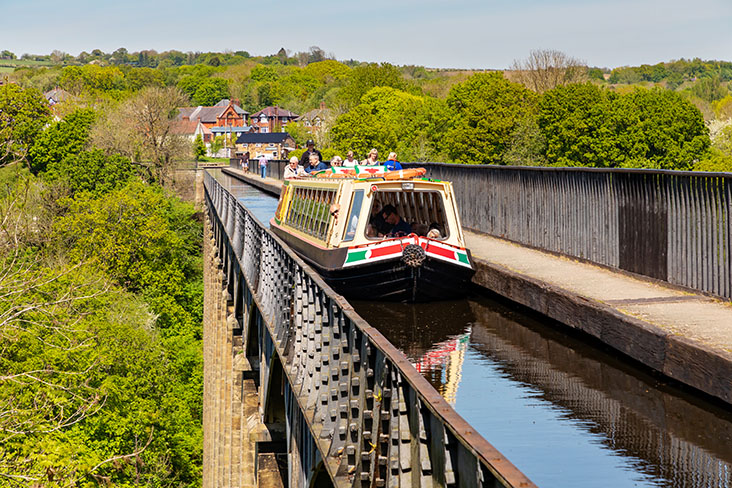 Deemed "a masterpiece of human creative genius", Llangollen's Pontcysyllte Aqueduct (pronounced "Pont-ker-suck-tay" for non-Welsh speakers) and Canal was given UNESCO World Heritage Site status alongside the Taj Mahal, the Pyramids, the Great Wall of China and the nearby Ironbridge Gorge. Although Llangollen is only really accessible by car, once you're there it's possible to explore this beautiful area via a variety of means. There's an accessible riverside walk, as well as an accessible railway and accessible boat trips – a journey across the aqueduct is run by the Vale of Llangollen Canal Boat Trust. Alternatively, enjoy a leisurely horse-drawn narrowboat trip along the towpath organized by the Horse Drawn Boat Centre. The towpath across the aqueduct is just wide enough for wheelchair users, but at 126ft/38m high, it's not a trip for the fainthearted. If your inner daredevil is keen to give it a go, the nearby Trevor Basin Visitor Centre offers a bookable buddy service to provide encouragement and ensure safe passage across
IRELAND
Derry, County Derry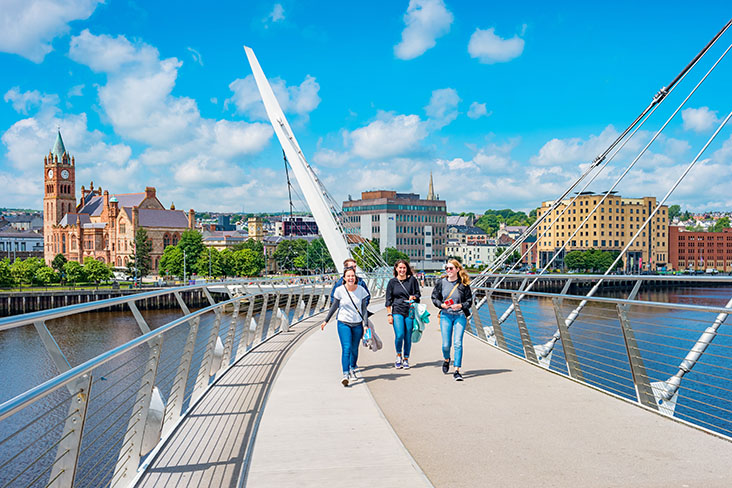 A great starting point for exploring Derry is to walk along its walls, which define the "old town" quarter of the city and make Derry the only completely walled city in Ireland. Finding a route is greatly aided by an impressive access map, which shows disabled toilets and parking locations, as well as three accessible routes that have been tried and tested by the local Shopmobility, who advise that a four-wheeled mobility scooter is best placed to handle the more challenging "red route". You can also enjoy views of the city by taking a walk along the striking, award-winning and symbolic Peace Bridge, which connects two once-divided communities across the River Foyle. To find out more about Derry's civil-rights heritage, including the crucial story of Bloody Sunday and the sinking of La Trinidad Valencera, part of the Spanish Armada, head to The Museum of Free Derry and the Tower Museum.
Image credits 
Rough Guides would like to thank the following individuals, companies and picture libraries for their kind permission to reproduce their photographs (in order of appearance on the web page):
Header image: © Shutterstock
Exeter: © Shutterstock
Chester: © Shutterstock
Inverness: © Shutterstock
Llangollen: © Shutterstock
Derry Peace Bridge: © iStock
Related Articles 
8 accessible virtual tours and visits
Scooter and powered wheelchair driving tips
Helen Dolphin's guide to rail travel during Coronavirus