We know that choosing a car is a big decision, and sometimes it can be overwhelming to find the right car for your needs. The car search tool on our website is there to help and presents the full list of cars available on the Motability Scheme, and with so many to choose from, the car search tool makes it easy to find a suitable car or Wheelchair Accessible Vehicle (WAV) filtering your search by price, make, model, type, accessibility options and more. In this article, we'll give you a step-by-step guide on how to use the tool, to help you find a car based on your budget, needs and preferences.
How does the car search tool work?
The search tool presents the full list of cars available on the Motability Scheme. If you want to browse through this list without making any selections, you can use the 'Find cars' button at the bottom of the page. If you have a particular preference, you can select different options in the tool to narrow down your search. The search tool will update automatically based on your selections.
Narrow down your search by price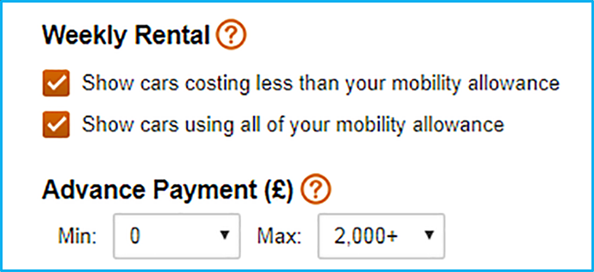 Select your price range to narrow down your choice, according to your budget. Every three months, the cost of available cars is negotiated with manufacturers – this ensures sustainability and the best value lease agreement possible. These prices are then added to the other costs associated with your lease, and the price you pay falls into one of three pricing categories:
Narrow down your search by make and model or car type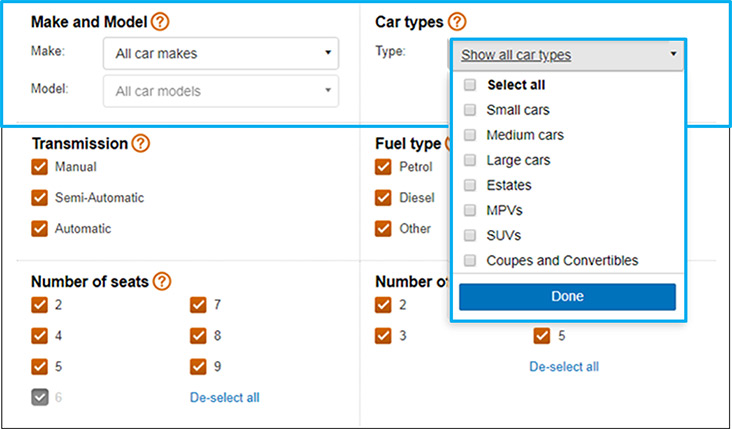 There are many different vehicles on the Scheme, with over 2000 models to choose from. With the car search tool, you can choose multiple makes and models of car or WAV (rather than selecting one at a time), allowing you to see a variety of options, and if you're not sure which vehicle you're interested in, you can 'select all'. If you know what size car you are looking for, use the option to select by type: 'small', 'medium' or 'large'.
Find out more about types of car
Narrow down your search by various car details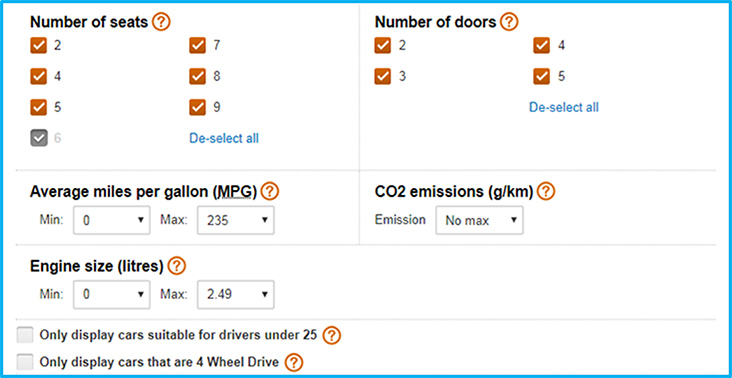 This functionality is designed to help you find a car according to your more specific needs, for example you may want a car with a certain number of seats. Examples of some of the options for your search are:
Engine size
Fuel types
Number of seats
Average miles per gallon and more.
You do not have to make selections for every option. Make the choices relevant to your preferences and click 'Find cars'.
Select or de-select options using the multiple-choice dropdown menus or tickboxes
The dropdown menus give you a list of options from which you can make your selection. Some of these ask you to define a range, for example CO2 emissions 'up to 150'. You can also make selections using tickboxes. Orange tickboxes show where a selection has been made, whilst grey ones indicate choices that are currently unavailable. There is a 'De-select all' option on the tickboxes so that you can remove all pre-selected options in one go, if you'd like to start over.
Compare up to four cars side by side

Clicking 'Add to comparison' will add the relevant car to a list of up to four chosen vehicles on the right-hand side of the page. You can use the 'Compare' button to view this list of cars and their key details, side by side. Click the 'save' option if you would like to name this comparison and come back to it later.
What happens next?
Once you've narrowed down your options, you can find a dealer, take a test drive and order your new car.
---
If you're ready to take the next step with the Motability Scheme, use the car search tool now to find the right car for you.
---
How to find your local car dealer?
You can find your local dealer by using our Find a Dealer tool. You can search by town, postcode or a particular manufacturer. There are over 4,500 Motability dealerships in the UK, and each has at least one Motability Specialist who will assist you and provide advice on which car best suits your needs.
Take a test drive to choose the right vehicle
A test drive is important to help you choose the right vehicle. Even if you are not going to be driving yourself, you need to make sure the car is comfortable and suits your needs.
How to order my car?
Your Motability Scheme specialist will place the order for you at the dealership. You'll just need to have 12 months remaining on your mobility allowance when you place the application. It's as easy as that.
More about the Motability Scheme
If you'd like us to send you more information about the Motability Scheme, request an information pack and we'll send you everything you need to help you make the right choice for your needs or you can start searching for your Motability Scheme car now.
How to join
If you're ready to take the next step, find out how to join now, alternatively, if you'd like to keep up to date with all the latest Scheme news, sign up to our monthly e-newsletter.
Related articles
10 things to help you decide if the Motability Scheme is right for you
Latest prices for the Motability Scheme
Adaptations: could a 60 second film change your driving experience forever?