Your Motability Scheme lease package includes servicing and maintenance to help keep your Wheelchair Accessible Vehicle (WAV) on the road for the duration of your lease. In between your scheduled servicing and annual vehicle checks, there are a couple of things you can do to prevent unnecessary repairs or maintenance.
Look after your battery
Remember that as WAVs are converted vehicles, there are some elements that have been adapted to make it accessible for a wheelchair user. Because of this, the battery in some models may have to work harder than it would in a standard vehicle, as it may have to power some of the conversion elements of the WAV.
You can look after your battery by occasionally taking longer drives. A longer journey will help to keep the battery charged. Always check that the power switch for your front tie-downs is turned off after use. If it's left on, it will drain the battery.
Check your wheelchair tie-downs
WAVs have what is called 4-point restraint or tie-down system to ensure the wheelchair is secured in position when in the vehicle. The wheelchair is secured to brackets fixed to the floor with straps that attach to the front and rear corners of the wheelchair. The front straps also help get the wheelchair into the vehicle and then together with the rear tie-downs, ensure that the wheelchair user is sitting securely once inside. Much like a car seatbelt, the strap of a tie-down can sometimes get twisted. If this happens, simply untwist the belt so it can work at its best. Make sure that the restraints of the front tie-downs are stowed away correctly and don't keep them extended when you're not in the vehicle, as this can cause damage and allow slack to build up, making them harder to use. Tie-down restraints are susceptible to getting stuck in car doors or the ramp of your WAV, so double check they're not an obstruction before you lift the ramp or close the door of your vehicle.
If you do notice that your tie-downs are frayed, contact your WAV supplier as soon as possible and they will be able to arrange a repair or replacement for you.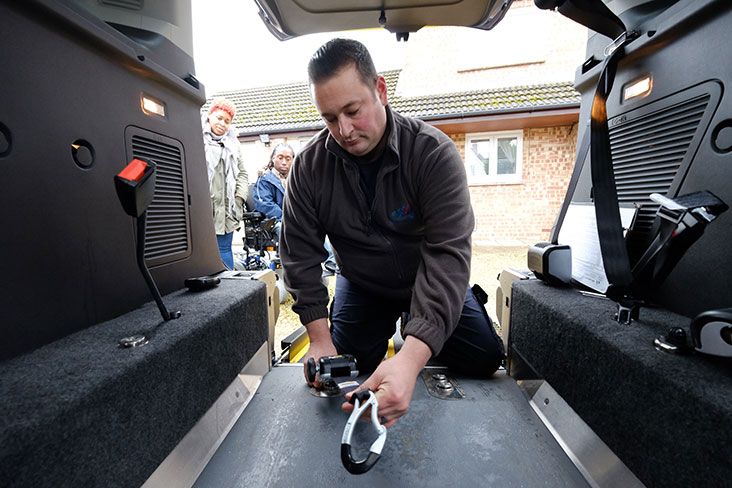 Don't neglect your winches
Winches provide support to those who need extra help getting a manual wheelchair into a WAV. If your WAV has a winch fitted, check that the belt isn't twisted or frayed and is stored correctly. As with any vehicle, you should refer to your manufacturer's handbook for recommendations of regular checks you should carry out. If any elements of your WAV aren't working, or you need additional support, please contact your WAV supplier.
Annual Vehicle Check
---
In addition to the regular service for your vehicle, we also offer a free annual vehicle check for your WAV as part of your lease package. This check will be carried out by your WAV supplier at your home to make sure the conversion elements of your WAV are in reliable working condition. This includes things such as the ramp or lift and tie-downs.
Related Articles
Your annual WAV check explored
Moving from Car to WAV: my experience on the Motability Scheme
Top Tips for looking after your Wheelchair Accessible Vehicle