Blogger and Motability Scheme customer Sarah Alexander, from Sarah Lex, writes about all things disability, beauty, fashion and lifestyle related. Sarah has multiple chronic conditions including Ehlers Danlos Syndrome, and by her own admission, is still learning about her body and her condition. With the summer holidays fast approaching, Sarah reveals the essential items that she packs in her travel bag.
I'm a huge fan of lists; I have a list for everything. Shopping lists, wish lists, lists of things I need to talk to my doctor about. I love a list. Being chronically ill means that I suffer with a really poor memory; the mixture of medication, pain and fatigue massively affects the mind and therefore I really rely on making notes or I wouldn't be able to function and I'd most definitely forget something. That saying, 'I'd forget my head if it wasn't attached,' has my name written all over it. So I always make lists and keep them on my phone as I know I'll have that with me whenever I go anywhere.
With the arrival of the warmer months and the summer holidays just around the corner it's important to make sure that when you're packing your suitcase you don't forget an important item. We've already been on a little break to Scotland and don't have anything else on the cards for this year. However, I go up to the North West quite often to visit my family and I would be lost without my travel bag essentials list.
My top five essentials are:
Medication/splints/braces
I take quite a bit of medication for various conditions and I always fill my pill organiser before I'm going anywhere, and then pack extra if I'm staying longer. I also add the pills that I take on an 'as and when' basis because you never know when you might need them. And don't forget copies of prescriptions if travelling abroad.
If you wear any braces or splints, make sure you pack them, too. If you're doing more whilst on holiday, you may exacerbate a joint and need to immobilise it for a while to let it recover. I always pop some heat and cool patches in my bag to help with pain and reduce swelling as well; there are some great, affordable ones available and they don't take up a lot of room in my case.
Despite being on medication for twenty plus years, I have once set off on the three hour drive to my parents without my medication organiser. I got half an hour away, couldn't remember packing them, called my boyfriend back at home and he confirmed they were still in the bedroom. Luckily I hadn't merged onto the motorway so made my way back home to collect them. You definitely don't want to add extra time onto a trip. Don't forget the meds.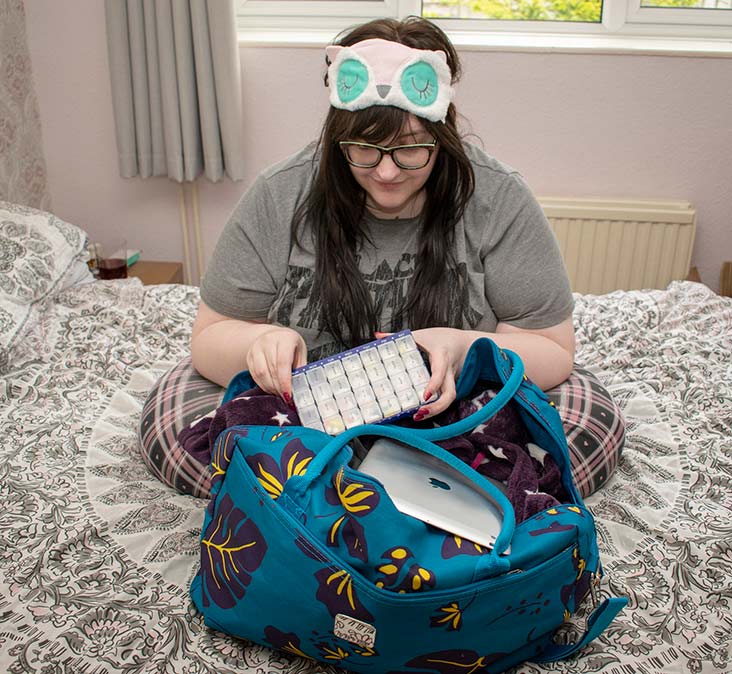 Comfy clothes
As well as all my other clothes (and I usually pack way too many) and large amount of pyjamas, I make sure I have some leggings, a hoody and cosy socks. This is great if I'm flaring or having a bad day but need to see people or have plans. I can make minimal effort but still be dressed.
I take a hoody everywhere with me as I can't regulate my temperature and can get really cold no matter what the temperature is outside, thus setting off a pain flare, so having a cosy sweater on hand is vital. It's also handy for the cooler evenings if you're travelling abroad or to wear on the trip back home to the sunny UK.
iPad/Kindle
I love to read, especially sat out in the sun, but carrying a few books about is a no-go. I can store and download as many books as I like on my electronic device and it doesn't get heavier. Having my iPad also means I can play games, write and watch TV so if I'm not in the mood for reading, I can be entertained in other ways.
Ear plugs/eye mask
You never know who will be staying next door, who will be sitting next to you on the plane or how loud the accommodation will be, so ear plugs are a must. I'm a very light sleeper and once I'm awake, if it's noisy, I won't be getting back to sleep. I'm also a massive fan of an eye mask to keep the light out. No light, no external sound, perfect.
Sunglasses
I suffer with chronic migraine so I need a pair of sunnies to reduce the glare from the sun and keep those dreaded headaches at bay. Even if you don't have problems with your eyes or migraines, your eye health is so important so make sure you stay protected and wear a pair of sunglasses.
Whatever you do or wherever you go on holiday, I highly recommend making a list of things you want to take with you. I start compiling my lists weeks in advance and add to them as I remember things. There's nothing worse than being in an unfamiliar place and not having your essentials.
Finally, have fun and make amazing memories!
Read more from Sarah at www.fromsarahlex.com
Related Articles
Accessible weekend getaways in the UK
Adaptive clothing for people with disabilities
Be Prepared: Top tips for travelling on your scooter or powered wheelchair