We're pleased to celebrate that there are now over 700,000 customers on the Motability Scheme. To mark this exciting milestone we spoke to Niki, who told us all about her experience joining the Scheme and getting her brand-new car, which she calls 'Stevie the EV'. Hear all about her story below! 
---
So Niki, why did you decide you wanted to join the Motability Scheme?
Well I've always had a car privately, an old petrol banger, so I'd never really thought about getting a car through the Motability Scheme before. Plus, I'd kind of relied on the money coming in from my allowance, so hadn't really thought about using it for something else.
But recently my legs have got a lot worse, and my leg was giving way on the clutch of my car. I was starting to get a little bit worried about driving, and it made me think that it was probably time to get a new automatic car.
My support worker was the one who initially suggested that I look at joining the Motability Scheme. Because I get the higher rate of PIP (Personal Independence Payment), I'd had a leaflet sent to me about the Scheme, and she suggested that we look into it together. And we just took it from there really!
And you decided to go electric for your first Scheme car – what was the main reason for it?
I wasn't actually thinking of an electric car at first. I knew I needed an automatic because of my legs, and so I spoke to a dealer and initially decided on a Kia petrol car. But with all the supply issues at the moment, it meant that I wasn't going to be able to get the new car until January, and I didn't want to wait that long.
So instead, we started talking to other dealers and seeing if there was anything that would be available sooner. We spoke to a Hyundai dealer and they said that they had an electric car that would be available pretty much immediately. We decided to have a look at it and go for a test drive, and that's when I kind of fell in love with it!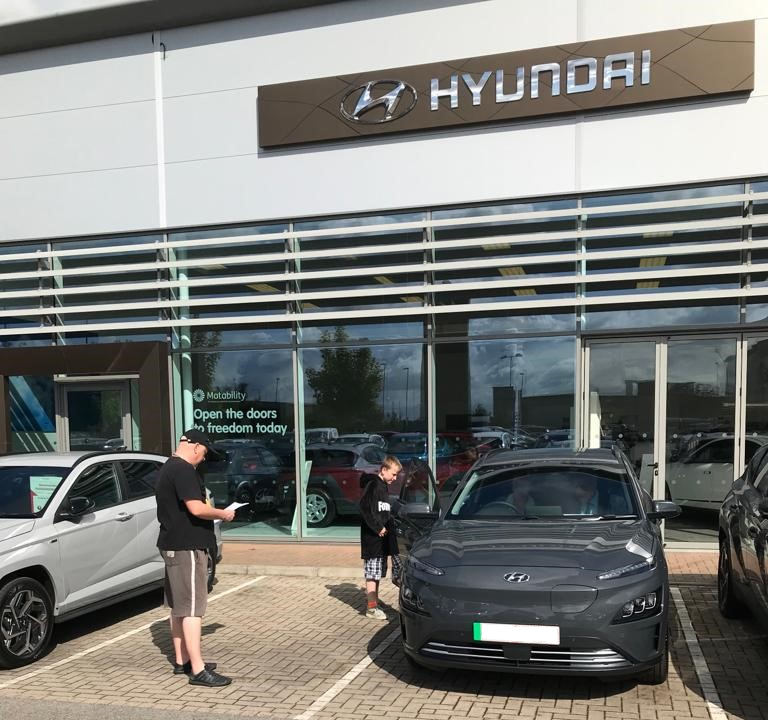 It's great you could find one that was available so soon! What did you love most about the car when you saw it for the first time?
I think it was the electric thing. It made sense to go with the electric because I live with my husband and two kids (and our Jack Russell), so I'm forever running around doing errands. I felt like I was forever at the petrol station, always having to fill up with petrol to run the kids around and do things like volunteering as well. It also cost a small fortune in fuel! So to me, it just felt like the electric route was the way to go.
And in terms of charging, what kind of research did you do before choosing to get an electric vehicle (EV)?
We were a bit worried at first that our electric bill would go up, so we decided to look into it a bit, and we found out that our electricity company has a special tariff that lets you charge at a lower rate. They said that if you get a home chargepoint fitted, you can charge your car at certain times and get an amazing discount. We're also getting an Ohme home chargepoint through the Scheme, which I think will make charging even cheaper once it's all set up.
Plus, I've signed up for the Electroverse card through my energy company, which helps you find loads of public charging points. I've even got an app on my phone that takes me to public chargepoints in my area.
That's brilliant! And when it comes to your car itself, how do you find driving it? Is it different to the other vehicles you've driven in the past?
Well I used to be a courier driver, so I've driven an assortment of different vans and trucks. But with this car, I've just found it so easy – there are loads of amazing features. You can put the cruise control on, and the car will stay at a certain speed without you having to press the accelerator. Plus there are loads of emergency warnings that tell you if you're getting too close to something, to help you slow down and stay safe. It just makes it so much easier to drive.
I think the other main difference I've noticed is just how smooth and quiet the car is to drive. I know you can get petrol cars that are automatic, but I don't think it compares to how quiet an EV is. My next-door neighbour actually said to me that she doesn't know when I'm coming in and out anymore, because she can't hear the car. I feel like some sort of ninja!
Is there anything your car allows you to do that you couldn't before?
The biggest thing is just that I feel more confident and relaxed driving. With my old car, I didn't like to drive too far away in case it broke down or if there were any issues. And the cost of petrol was holding me back a bit too, because I'd worry about making trips that were quite far out of town.
But this car has made a tremendous difference, and I've been going out a lot more which has been great. I've even given the car a name, after one of my favourite singers – Stevie Nicks. I call her Stevie the EV! I'm really looking forward to going on longer journeys now I've got Stevie, like this half term we're going to drive down to the south coast and visit some friends who live far away. I'm really looking forward to it.
And final question: what would you say to someone who's thinking about joining the Scheme?
I would say do your research on the cars and the dealers, to make sure you go for the right ones. And think about if an electric car is right for you, because it depends on your individual circumstances. For me, it was a great choice.
I'd also say that the Scheme definitely adds up in terms of the value you get from it. Even if you don't get the allowance money coming in directly if you use it for a Scheme car, you get so much included in your lease that it's worth the price you pay. Getting the MOT, servicing, repairs and a brand-new reliable car every three years is such a reassurance. It's worth having that safety and reliability, it really is.
Want to join the 700,000 customers on the Motability Scheme?
The Motability Scheme offers worry-free access to a brand-new, reliable vehicle of your choice. You can exchange your qualifying mobility allowance to lease a brand-new car, scooter, powered wheelchair or Wheelchair Accessible Vehicle (WAV).
And don't forget, our leases are all-inclusive, which means you'll get a whole host of benefits included in the price you pay – from insurance and breakdown cover to servicing and tyre replacements.
Related articles
45 years of making a difference: a brief history of the Motability Scheme
Car share: David and Mike share their experiences on the Scheme
Shona's story: "The Motability Scheme is about more than just a vehicle, it's shaped my life"