As the roads have become busier, motorists have taken an increased interest in dashcams. We spoke to Neil Whittle from RSA Motability to find out more about how they work, plus some things to think about if you're considering fitting a dashcam to your Motability Scheme vehicle.
What is a dashcam?
A dashcam is a small device that looks a bit like a portable sat nav. A basic dashcam is a video camera with transferable or built-in storage media that constantly records footage of the road ahead while driving.
How do they work?
They are usually installed on your dashboard, windscreen or rear-view mirror and the camera's lens will capture everything that it is pointed at through the windscreen. It's useful to know that dashcams record on a loop, so that you don't wind up with masses of footage. This means that when the device's storage gets full, it starts videoing over the earliest material. Remember to stop the dashcam recording after an accident so that you don't accidentally record over the relevant footage.
If Motability Scheme customers want to use dashcams, they must use one that plugs into the car
Types of dashcam
The majority of dashcams are straightforward, but there are some that come with advanced features, including speed sensors, GPS logging and dual cameras. Speed sensors can be advantageous if you want to know how fast your car was going at a specific point in time and GPS logging is a valuable feature if you want to work out the location of your car after an incident. A dual camera dashcam has two lenses; one facing outwards and the other recording the car's cabin.
What's the benefit?
According to Neil Whittle from RSA Motability, dashcam footage can sometimes be the best 'witness' possible. He says: "Dashcam footage is not only helpful in proving who caused an accident, but it is being used to prove the number of occupants in a vehicle at the time of an accident. For example, if someone is claiming for whiplash, a dashcam can, at the very least, show that they were actually in the car at the time of the accident."
Insurance is included in your worry-free lease package, so installing a dashcam in your car will not have any effect on insurance costs. However if you're involved in an accident, dashcam footage can sometimes help with the insurance claim. Find out more about what's covered by your insurance policy or visit the RSAM Motability website to make an insurance claim.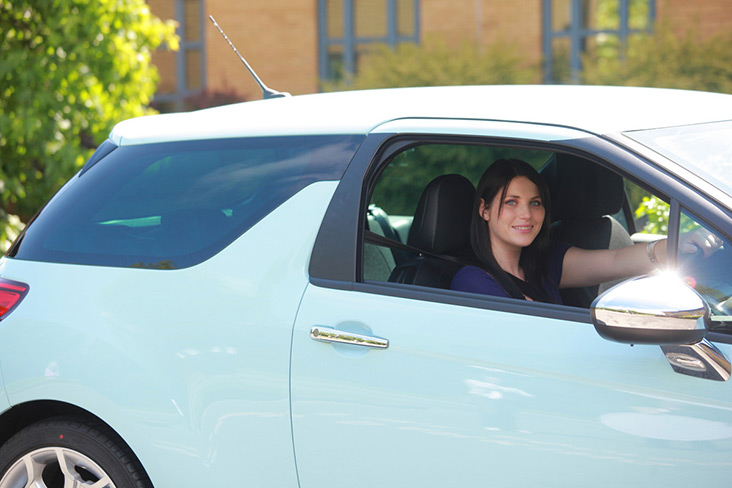 Dashcams can be very helpful if you need to make an insurance claim on your car
What the law says about dashcams
It is vital that you consider where you place your dashcam before you drive away. This is because The Highway Code states that "windscreens and windows must be kept clean and free from obstructions to vision". Having a dashcam positioned in the wrong area of your vehicle's windscreen can constitute an obstruction, and you could receive a fine.
What's more, any footage recorded on the illegally positioned dashcam might be declared inadmissible in a court of law. Therefore, a dashcam should be sited behind your rear-view mirror. This ensures it is in the middle of the windscreen, but not in your line of sight. It also means the dashcam will video both lanes of the road as well as any signage on each side.
Fitting a dashcam to a Motability Scheme car?
If you're considering fitting a dashcam to your Scheme car, here's what you need to know:
The dashcam must be plug in type and not hard wired into the vehicle
It must be attached in such a way as to not cause damage to the vehicle (eg fixed by suckers and not permanantely attached to the dashboard)
Any associated costs must be covered by you (including the purchase of the dashcam and any fitting/removal costs)
Your dealer may also be able to help advise you on purchasing and installing a dashcam
RSA Motability and the Scheme
The insurance provided by RSA Motability (RSAM) is just one of the many benefits of being a Motability Scheme customer. Other things included with your Motability Scheme car, scooter or powered wheelchair include servicing and maintenance, breakdown cover, access to various car adaptations and the option to get a brand new vehicle every three years when you renew your lease.
---
More on what's included in your 3 year lease package
---
The Motability Scheme enables disabled people and their families to access a brand new car or scooter, by exchanging their mobility allowance to lease the vehicle of their choice. Find out more:
---
Related articles
Insurance claim tips from RSA Motability
Manual vs automatic: Which gearbox is right for you?
Reporting a car fault to a dealer or workshop