The Motability Scheme is one way to lease a car that suits your needs, but it's not the only way! There are other vehicle lease options that work in a similar way, but with some differences you may not know about.
When you're comparing the Motability Scheme with other vehicle lease options, it's important to think about the benefits each option offers before you make your decision. This article aims to explain why, if you qualify for the enhanced rate mobility component of Disability Living Allowance (DLA) or Personal Independence Payment (PIP), leasing through the Motability Scheme could be the right choice for you.
Vehicle leasing options
A standard vehicle lease allows you to drive a new car every few years, paying monthly payments until the term ends. There are two main types of standard lease: personal contract hire (PCH), where you hand the car back after the term ends, and personal contract purchase (PCP), where you are able to buy the car at the end of the lease for a lump sum payment. Out of these two, a PCH is the closest to the Motability Scheme, where you hand the car back at the end of three years, and then if you choose to do so, place an application for a new car.
Especially for you
The Motability Scheme is exclusively for people with a higher rate mobility allowance, to help them get around and increase their independence. This means that there are certain provisions available with the Scheme that wouldn't necessarily be available with other leases out there, especially when it comes to things that might only be relevant to people with disabilities. For example the Scheme will offer you the chance to have your car adapted should you need help with driving, accessing the vehicle or storing mobility aids. In most cases, adaptations can be fitted to your car at the start of your lease for no extra cost. Although it's worth noting that only around 10% of cars are adapted, but the option is there if needed!
See some of the most popular adaptations in action to learn more.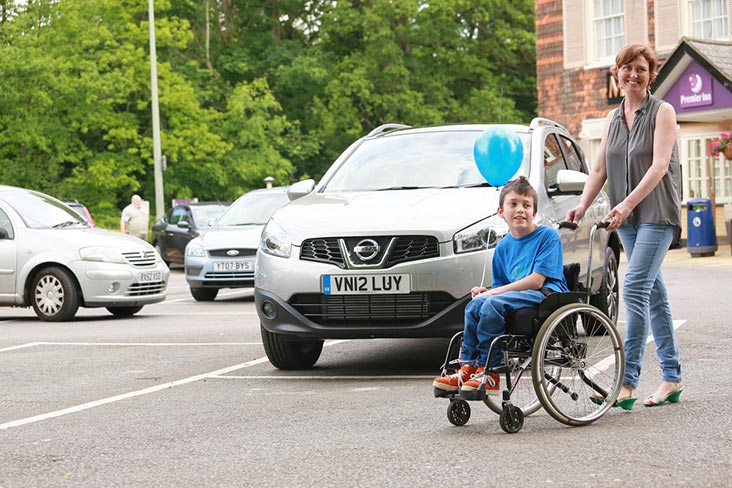 The Motability Scheme allows for up to three named drivers for each customer
What's included in the lease
You don't have to drive to lease a car through the Motability Scheme. Many of our customers don't drive. That's why insurance with your lease is for up to three named drivers. So your car could be driven by a family member, friend or carer, it doesn't have to be you. And it's worth remembering that many other vehicle lease options don't include insurance so this is an additional cost that you would need to factor in.
There are many benefits that come as standard with the Motability Scheme in addition to insurance for three named drivers, such as:
Full RAC breakdown assistance
Servicing, maintenance and repairs
Replacement tyres
Windscreen repair and replacement
60,000 mileage allowance over 3 years (100,000 for 5 year agreements)
If you're considering another vehicle leasing option it's worth considering what's included as standard to help you make a like for like comparison.
Any maintenance or repair work needed on your car is covered as part of your Motability Scheme lease
Something for every budget
With the Motability Scheme, you don't have to spend a penny from your own pocket for a number of the vehicles. This is because monthly payments are taken directly from your higher rate mobility allowance, making the process quick and simple. And there are options for all budgets! Our choice of over 2,000 vehicles is split into three price band options:
• Cars that cost less than your allowance, so you keep the difference.
• Cars that cost exactly the same as your allowance.
• Cars that cost the same as your allowance, plus a one-off Advance Payment
Use our Car Search tool to filter cars by 'Weekly Rental' and 'Advance Payment' to see which cars are available to suit your budget.
Joining the Scheme
Joining the Motability Scheme is simple. Once you check your eligibility, you can search for a car, visit a dealership and talk to a specialist to see your car up close and take a test drive before ordering your new car. Leasing with the Motability Scheme is a hassle-free process which doesn't involve any complicated paperwork or credit checks. Motability Scheme specialists are on hand at the dealership to support you throughout the process and throughout your lease.
It's not just cars you can lease on the Scheme
As well as new cars you can also lease a wide range of Wheelchair Accessible Vehicles (WAVs), scooters and powered wheelchairs through the Scheme, with the same all-inclusive package you get with a car.
If you have not leased a car through the Motability Scheme before, find out more about the benefits of leasing through the Motability Car Scheme and check your eligibility to join.
Find out what other customers have said about leasing a vehicle with the Scheme
Related articles
Top tips for ordering your next car
Dealer Jonathan talks us through joining the Motability Scheme
If you care for someone with a disability, the Motability Scheme could help